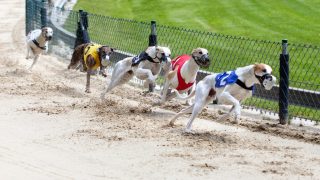 Speak Out In Support of the Greyhound Protection Amendment
Update: The action is closed.
Greyhounds used for racing spend most of their lives in cramped crates, without a family to love them. Racing dogs routinely suffer broken backs and legs, and dogs that don't run fast enough are callously discarded. Nearly 500 dogs have died at Florida tracks since 2013.
Contact the Florida Constitution Revision Commission in support of greyhounds today.
The Florida Constitutional Revision Commission is considering the Greyhound Protection Amendment, a constitutional amendment that would end the inhumane practice of greyhound racing in Florida. The Commission is meeting now to decide which proposals to the state constitution to place on the November ballot. Please take a few minutes to politely ask Commissioners to place Proposal 67 on the ballot – and give Floridians the chance to cast a vote against greyhound racing.
Take action now
Florida is only one of a handful of states that continue to support greyhound racing. Twelve of the 18 remaining racing tracks in the United States are in Florida. It's time to shut this cruel industry down.
We can make history for greyhounds this November. Join us.
Related
On April 24, 2018, Governor Larry Hogan signed into law HB 1662, the "No More Puppy-Mill Pups Act of 2018," making Maryland the second state to ban the retail sale of dogs and cats obtained from commercial breeding facilities.

Barkworks has closed four of the stores, and its remaining two stores will likely close by January 1, 2019, when California's law banning the sale of dogs from commercial breeders comes into effect.

Pet store lobbyists are pressuring state legislatures to pass preemption laws blocking cities' and counties' right to adopt retail pet sale bans.