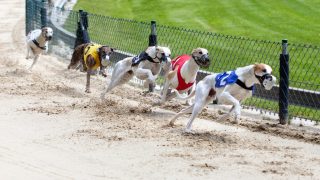 Speak Out In Support of the Greyhound Protection Amendment
Update: The action is closed.
Greyhounds used for racing spend most of their lives in cramped crates, without a family to love them. Racing dogs routinely suffer broken backs and legs, and dogs that don't run fast enough are callously discarded. Nearly 500 dogs have died at Florida tracks since 2013.
Contact the Florida Constitution Revision Commission in support of greyhounds today.
The Florida Constitutional Revision Commission is considering the Greyhound Protection Amendment, a constitutional amendment that would end the inhumane practice of greyhound racing in Florida. The Commission is meeting now to decide which proposals to the state constitution to place on the November ballot. Please take a few minutes to politely ask Commissioners to place Proposal 67 on the ballot – and give Floridians the chance to cast a vote against greyhound racing.
Take action now
Florida is only one of a handful of states that continue to support greyhound racing. Twelve of the 18 remaining racing tracks in the United States are in Florida. It's time to shut this cruel industry down.
We can make history for greyhounds this November. Join us.
Related
The recent midterm election included two big wins for animal protection: Amendment 13 and Proposition 12.

This week the Farm Bill was approved by the U.S. House and Senate. The bill includes important provisions that will protect animals, and most importantly, does not contain the King amendment.

'Do chickens count?' The BIA's decision and the Animal Legal Defense Fund's arguments in the Ortega-Lopez v. Lynch case represent an important step forward in improving the legal status of animals.