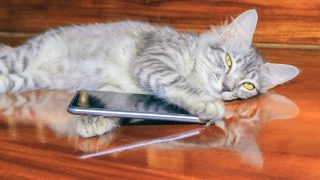 Sign Up for Text Alerts
Simply text ALDF to 52886
It's more important than ever that animal advocates stay connected and be the voice for animals. Now you can receive critical and timely animal protection initiatives and take action — all on your phone.
Text ALDF to 52886
You'll receive texts from the Animal Legal Defense Fund staff members about how you can help with public pressure campaigns, contacting legislators at critical times, breaking developments in cases, and more.
The pandemic may keep us apart, but our work together on behalf of animals continues. Don't miss important opportunities to make this country a kinder, more humane place for animals. Sign up to receive text alerts today.
Related
The Animal Legal Defense Fund filed a lawsuit against the United States Department of Agriculture (USDA) under the Freedom of Information Act (FOIA) over the agency's critical redactions in a contract between the USDA's Wildlife Services program and a Colorado slaughterhouse, outlining plans for slaughtering geese rounded up in parks across Denver.

The Animal Legal Defense Fund released the second in a series of white papers — COVID-19 and Factory Farming —providing policy recommendations to address industrial animal agriculture's role in our heightened risk for zoonotic diseases outbreaks, like COVID-19, and its potential to be the source of the next global pandemic.

These awards celebrate chapters that have shown incredible efforts in advancing animal law and advocating for animals through original projects and initiatives. Animal Legal Defense Fund Student Chapters are a vital part of the growing animal law movement.