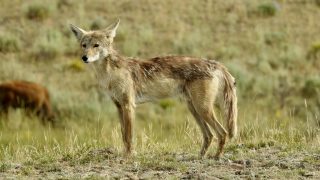 Oregon: End Coyote Killing Contests in Oregon
This action is for Oregon residents only.
Help end coyote killing contests. Tell your state senators to support HB 2728. Your legislators need to hear from you about this important legislation.
You can send an email and/or call your state senator using the form below. Phone calls have much more impact than emails. If you're able to make a phone call, please do so.
Killing contests are cruel and not grounded in science. Participants compete to kill as many animals as they can during a set time period, and prizes and money are awarded for various categories, including for the largest and smallest animals killed.
The Oregon Legislature is considering a bill (HB 2728) that would ban coyote killing contests — the most common species targeted by these cruel events. This bill recently passed the House of Representatives and is now in the Senate.
Over nine contests have been held in Oregon in recent years. This past January, in a contest in Southeastern Oregon, more than 272 coyotes were killed over a two-day period for the chance to win thousands of dollars in cash and prizes.
The bill is part of a growing national movement to prohibit wildlife killing contests. Seven states have already enacted bans entirely or for certain mammal species — Arizona, California, Colorado, Massachusetts, New Mexico, Vermont, and Washington.
Such contests have come under increasing scrutiny as especially egregious instances of wanton violence against animals. Killing contests are inhumane and numerous scientific studies have debunked claims that killing contests reduce native wildlife long term.
Join the Animal Legal Defense Fund's email list to stay up to date on lawsuits, legislation, and regulations affecting animals.
Sign Up Now
Related
For years, captive wild animals have suffered in the care of traveling zoo operator Robert Sawmiller. On December 9, 2020 two wolves and a Labrador named Fancy were rescued and transported to sanctuary through legal action brought by the Animal Legal Defense Fund.

The Animal Legal Defense Fund — with the assistance of local counsel named Taylor Waters, U.S. Marshals, and the Auglaize County Sheriffs Office — executed a court order, seizing three animals from infamous wild and domestic animal breeder and broker Robert Sawmiller near Wapakoneta, Ohio.

The Animal Legal Defense Fund, the nation's preeminent legal advocacy organization for animals, is offering a $5,000 reward for information leading to the arrest and conviction of the person or people responsible for illegally trapping a coyote in Essex County, Massachusetts.