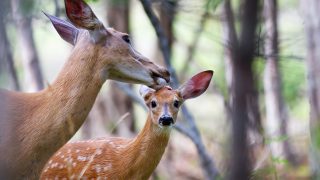 Ohio: Protect Wildlife — Oppose SJR 3
This action is for Ohio residents only.
Your voice is needed now!
Ohio Senate Joint Resolution 3 (SJR 3) would enshrine in the Ohio state Constitution a right to hunt and fish using vague language like "traditional methods." This is a euphemism for practices such as the use of steel-jaw leghold and body-crushing traps, neck snares that can slowly and painfully strangle animals, and hunting wildlife using packs of dogs.
If this measure were to pass, it would also deny voters, local governments, and state wildlife officials the ability to pursue their own conservation priorities and humane approaches to handle human-wildlife encounters. Instead, it would mandate the use of hunting and fishing as a "preferred means of managing and controlling wildlife."
Please use the form below to send a message to your state senator, urging them to reject this harmful, unnecessary measure. Remember, personalizing your message will help it stand out!
Join the Animal Legal Defense Fund's email list to stay up to date on lawsuits, legislation, and regulations affecting animals.
Sign Up Now
Related
Additional $20,000 reward offered for information leading to the arrest and conviction of the person or people responsible for attacking and mutilating dozens of brown pelicans on the coast of Orange County, California.

Animal Legal Defense Fund offers reward for information leading to the arrest and conviction of the person or people responsible for operating and crash-landing a drone at the Bolsa Chica Ecological Reserve in Orange County, California

Animal Legal Defense Fund increases reward offer for information leading to the arrest and conviction of the person or people responsible for attacking over 30 pelicans in Orange County, California