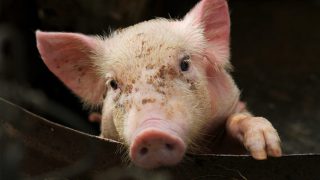 Investigation Reveals Cruelty and Neglect at Hormel Foods' Pig Supplier
Undercover Video Footage Obtained at The Maschhoffs' Nebraska Facility
Contact: media@aldf.org
Omaha, NE — The Animal Legal Defense Fund, the nation's leading legal animal protection organization, released sickening undercover footage—obtained at a pig breeding facility in Nebraska owned and operated by The Maschhoffs, LLC—which depicts animal neglect and violations of laws protecting both consumers and animals. The Maschhoffs is the third largest pig producer in the U.S. and, according to company reports, one of its largest customers is Hormel Foods.
Attorneys General Doug Peterson of Nebraska and Lisa Madigan of Illinois, where the company's corporate headquarters is located, have been contacted by the Animal Legal Defense Fund and urged to open investigations. Allegations include consumer fraud and unfair business practices stemming from animal mistreatment. Formal complaints are likely to follow.
The footage shows long-term neglect and lack of appropriate veterinary care. Pigs often suffered for days or weeks with grossly prolapsed rectums, intestinal ruptures, large open wounds, and bloody baseball-sized ruptured cysts. The investigator documented long stretches of time—up to three days—where the pigs received no food, leading them to become agitated, hurting themselves and each other.
"Conscious consumers who are looking to support more responsible businesses are deceived by companies, such as The Maschhoffs, that misrepresent themselves with false idyllic words and images rather than developing a better business model," says Animal Legal Defense Fund Executive Director Stephen Wells. "Consumers, competitors, and animals themselves suffer when a company greenwashes its animal welfare practices with no accountability."
The footage also reveals the brutality of what are considered "industry standards," including piglets who are deemed sickly or too small being "thumped"—their heads smashed against the floor in an effort to kill them. In the video, piglets who have been thumped are visibly moving, conscious and frantically looking around, and/or convulsing—dying slowly.
The intense confinement of the mothers does not allow them to turnaround or move freely, leading some to get their head and limbs trapped between bars. Also captured on film, a mother pig being "euthanized" by being shot in the head—requiring multiple shots—and multiple minutes—to die. Many pigs were kept alive for days, weeks, or even months beyond the point when it was obvious that they required immediate "euthanasia."
Related
Cows were killed in Madison, Brazos, and Robertson Counties, Texas.

The U.S. Court of Appeals for the Fourth Circuit handed an important win to plaintiffs in a lawsuit challenging North Carolina's Ag-Gag law, ruling that undercover investigations and whistleblowing are considered newsgathering activities protected by the First Amendment.

Following the dismissal of Justice's case upheld on appeal, the Animal Legal Defense Fund continues to seek accountability under the law.