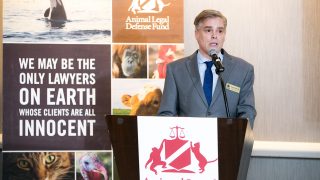 Furthering the Field of Animal Law at the Association of American Law Schools Annual Meeting
Every year we look forward to the Association of American Law Schools (AALS) Annual Meeting. AALS is a nonprofit association representing 179 law schools in the United States and "works to uphold and advance excellence in legal education." This year's theme, "Access to Justice" included over 250 sessions on many topics relevant to the legal community, including animal law. We headed to sunny San Diego to hold our 11th Annual Animal Law Reception during the AALS Annual Meeting on January 5. Additionally, Animal Legal Defense Fund Academic Outreach Manager Nicole Pallotta shared some of our academic and career resources at our booth in the exhibit hall.
We attend the AALS Annual Meeting because advancing the field of animal law and nurturing the next generation of animal lawyers are core components of the Animal Legal Defense Fund's mission. In a growing field like animal law, it's crucial to support current and future practitioners. The Animal Legal Defense Fund works to develop new animal law courses and Student Animal Legal Defense Fund chapters at law schools across the country. The AALS Annual Meeting is a great time to make connections with the legal professionals and students also interested in furthering the field of animal law.
Matthew Liebman, our director of litigation, and Justin Marceau, of counsel for the Animal Legal Defense Fund's litigation program and tenured law professor at the University of Denver Sturm College of Law, both spoke on the panel, "Corporate Transparency, Accountability, and Animal Welfare." The session focused on the exploitation of animals for commercial, scientific, and entertainment purposes and those industries' incentives for limiting the public's access to information about their use of animals. The panel also highlighted the barriers that companies have erected to conceal information and discussed whether there is a social responsibility to provide that to consumers.
During the well-attended Animal Law Reception, guests had the opportunity to connect with their colleagues in the animal law community, build new relationships, and learn about the Animal Legal Defense Fund's recent wins for animals. Stephen Wells, the executive director of the Animal Legal Defense Fund, screened a brief video on our 2017 victories including beating Ag-Gag laws and making the United States Department of Agriculture uphold the Animal Welfare Act against puppy mill operators and roadside zoos. Stephen also looked to the future and shared some of our goals for the coming year.
The Animal Legal Defense Fund spearheaded the creation of animal law, and we are committed to  advancing the field and using the legal system to protect animals today. Sign up for our email alerts and newsletters to learn about the latest developments in animal law and join us at one of our many events in 2018!
Related
On April 24, 2018, Governor Larry Hogan signed into law HB 1662, the "No More Puppy-Mill Pups Act of 2018," making Maryland the second state to ban the retail sale of dogs and cats obtained from commercial breeding facilities.

The Lewis & Clark Animal Legal Defense Fund Student Chapter had a busy semester in spring 2018, holding three big events: its annual Animal Law Networking event, the Food Law Symposium, and its MeatOut BBQ.

Reward for information leading to the arrest and conviction of the person or people responsible