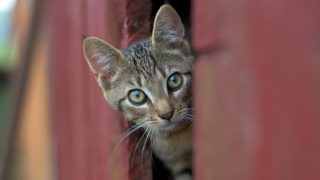 California: Urge Your Senator to Vote Yes on AB 485
Update: This action is closed.
THIS ACTION IS ONLY FOR CALIFORNIA RESIDENTS
A bill coming up for a vote in the California Senate could help shut down the puppy mills that supply retail pet stores. AB 485 would require that all cats, dogs, and rabbits sold in stores come from rescue organizations, not commercial breeding facilities. Bills like this are picking up speed nationwide, and in California alone, more than 30 cities have similar laws, including Los Angeles, San Francisco, and Sacramento. This bill would make California the first to pass such a law on a state level.
If you'd like to read the full text of AB 485, the bill is posted here.
California residents can email their state senators through the Animal Legal Defense Fund's Action Center.
It's important that you speak up and urge your state senator to vote YES on AB 485. Act now, and call your senator before the bill comes to a vote!
First, if you don't know who your state senator is, look them up here. Then find their phone number and give them a call. Don't worry, it's easy! You can simply say:
Hello! I'm a constituent from [Your City] and I want to urge Senator [Your Senator's Name] to vote YES on AB 485. Thank you for your time.
Related
This week the Farm Bill was approved by the U.S. House and Senate. The bill includes important provisions that will protect animals, and most importantly, does not contain the King amendment.

'Do chickens count?' The BIA's decision and the Animal Legal Defense Fund's arguments in the Ortega-Lopez v. Lynch case represent an important step forward in improving the legal status of animals.

On September 27, 2018, Governor Jerry Brown signed AB 2274, which empowers California courts to take into consideration "the care of the pet animal" in cases of marital dissolution or legal separation.