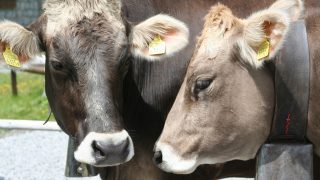 Animal Protection Groups File Legal Petition Alleging USDA Failure to Enforce Humane Slaughter Law
Groups Cite Two Years of Enforcement Records Released Through FOIA in Demanding Changes to USDA's Humane Slaughter Oversight
Contact: media@aldf.org
Washington, DC – Today, the national nonprofits the Animal Legal Defense Fund, Compassion Over Killing, Farm Forward, Farm Sanctuary, Mercy for Animals, and People for the Ethical Treatment of Animals submitted a 38-page petition for rulemaking to the U.S. Department of Agriculture's (USDA's) Food Safety and Inspection Service (FSIS), calling on the Agency to properly enforce the Humane Methods of Livestock Slaughter Act (HMSA).
In preparing their complaint, the groups examined and cite two years of enforcement records, which they obtained through Freedom of Information Act (FOIA) requests. They also examined and cite records from undercover investigations and reports from the Government Accountability Office and USDA's Office of the Inspector General.
From their FOIA documents, the groups cite: 18 examples of inspectors allowing animals to be shot through the head repeatedly, without the plant being suspended; 10 examples of what the Agency calls "egregious" illegality that also did not result in plant suspension; 6 examples of intentional and extreme cruelty that was not referred for criminal prosecution; and 16 additional examples of Agency enforcement decisions that the groups contend violate its statutory mandate.
In addition to animals shot through the head over and over and suffering in agony, FOIA records from USDA document workers running over crippled animals with construction equipment and electrocuting them in their genitals and anuses, animals running around the slaughter floor with massive head wounds, animals regaining consciousness mid-slaughter, and plants that continue to operate even after being cited many times for inhumane slaughter.
The coalition seeks to formalize a definition of "egregious violations," along with enforcement protocols for such violations. Moreover, although rules currently provide for referral of humane slaughter violations to law enforcement for criminal prosecution, the groups were unable to find a single instance in which FSIS has referred a case involving a federally inspected slaughterhouse for prosecution, despite numerous instances of extreme and deliberate cruelty. The coalition is calling for regulations that would require criminal referral of intentional, reckless, and egregious abuse.
Finally, the animal protection groups are seeking to reverse the FSIS's practice of doling out endless get-out-of-jail-free cards to repeat HMSA offenders. Instead of allowing slaughterhouses to rack up violation after violation, with no end in sight, the coalition is proposing that the agency standardize the number and severity of HMSA violations that would trigger a withdrawal of federal inspectors and the shuttering of dysfunctional plants. Such regulatory changes would put slaughterhouse operators on notice and foster greater HMSA compliance nationwide.
Related
Proposed rule would maintain an unnecessarily complicated and confusing process for children to get access to plant-based milk

Recommendations aim to decrease risk of zoonotic disease spread, animal escapes and attacks, and psychological and physical harm to the animals

Animal Legal Defense Fund petition for rulemaking spurs reporting improvements: Forms will be revised to ensure AWA licensees maintain complete records of all animal deaths.