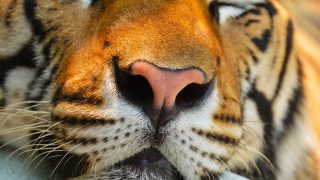 Animal Protection Group Files USDA Request to Revoke Traveling Circus Act License
Contact: media@aldf.org
Washington, D.C. – Today, Animal Legal Defense Fund filed a request with the United States Department of Agriculture (USDA) for investigation of Orlando, Florida-based PM Productions Entertainment, Inc. and its owner, Robert Mullen for violations of the Animal Welfare Act (AWA).
Last weekend, several national media outlets reported shocked visitors at the Missouri State Fair describing emaciated, lethargic tigers performing circus tricks during Mr. Mullen's Amazing Rainforest Adventures exhibition.
In response to media questions about the daily food intake of his apex predators, Mullen acknowledged that they eat just 13-14 pounds of chicken daily as opposed to the additional bones, red meat and organs tigers should also receive to survive. Fair visitors reported visible spines and hip bones on the animals as well as sluggish big cats that appeared to have been drugged.
Representatives from several reputable sanctuaries speculate that the tigers were intentionally underfed, so that they would be motivated to perform tricks for food morsels. If these allegations are correct, food deprivation is a serious violation of the AWA.
Mullen also received negative media attention in 2013, when the International Fund for Animal Welfare (IFAW) released a video featuring Mullen forcing emaciated big cats to perform at a state fair. In one part of the video, a cougar is being dragged by his collar. Trainers can also be viewed holding whips to intimidate the animals.
The recent media outcry about the big cats at the Missouri State Fair led a former Mullen employee to step forward and report seeing a tiger being transported from Orlando, Florida to Cape Cod, Massachusetts in a pickup truck—a serious violation of animal transport laws. The cat was made to remain in a crate for the more than 24 hour drive with no opportunity for exercise.
"Animal Legal Defense Fund has asked the USDA to consider suspending or revoking Mr. Mullen's license, so that no additional animals can suffer in his care" said Stephen Wells, executive director of the Animal Legal Defense Fund.
Related
The bill helps end the rampant abuse of tigers and other big cats in captivity by banning private possession

Animal Legal Defense Fund petition for rulemaking spurs reporting improvements: Forms will be revised to ensure AWA licensees maintain complete records of all animal deaths.

Graphic images of wound are posted on Tik-Tok by an employee of Gator Park — a facility owned and operated by Jason Clay.