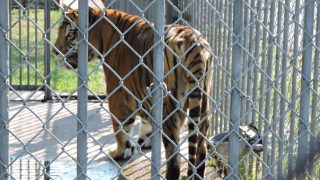 Animal Legal Defense Fund Urges USDA Inspection for Tony the Tiger
Truck Stop Tiger's Potential Failing Health Requires Immediate Government Intervention
Contact: media@aldf.org
BATON ROUGE, La. – The Animal Legal Defense Fund has submitted a letter to the U.S. Department of Agriculture requesting an inspection of Tony, based on recent information raising concerns regarding the tiger's health. Tony, a 16-year-old Siberian-Bengal tiger, is held in a cage at Gross Tete's Tiger Truck Stop where he lives amidst diesel fumes and the roar of the adjacent highway. The USDA licenses the Truck Stop under the federal Animal Welfare Act.
For years, the Animal Legal Defense Fund has worked to have Tony moved to a reputable sanctuary. While the legal battle continues, recent observations by members of the public and a private investigator raise concerns about Tony's health, prompting the Animal Legal Defense Fund to call on the USDA to inspect the Tiger Truck Stop facility. The group's letter urges the USDA to investigate Animal Welfare Act violations and determine whether Tony's medical condition requires immediate independent veterinary care and treatment.
Tony has been observed experiencing diarrhea, potentially suppressed appetite and lethargic behavior. A veterinarian with expertise treating exotic animals like Tony has reviewed recent photos and video and concluded he is suffering from at least two issues, including a kyphosis (or abnormal rounding) of the T-L spine and an impairment causing him to limp. The Animal Legal Defense Fund is not aware of any evidence that Tony is receiving the adequate veterinary care he is guaranteed under the Animal Welfare Act.
"Tony should have been transferred to a sanctuary years ago, but now that his health is potentially failing, the cruelty of confining him in a gas station parking lot is compounded," says Animal Legal Defense Fund Executive Director Stephen Wells. "At this point it's the USDA's responsibility to step in and enforce the federal Animal Welfare Act."
For more information visit, aldf.org.
Related
The bill helps end the rampant abuse of tigers and other big cats in captivity by banning private possession

Animal Legal Defense Fund petition for rulemaking spurs reporting improvements: Forms will be revised to ensure AWA licensees maintain complete records of all animal deaths.

Graphic images of wound are posted on Tik-Tok by an employee of Gator Park — a facility owned and operated by Jason Clay.