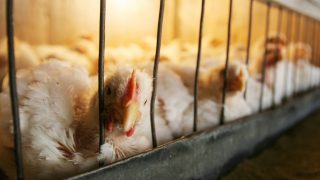 Animal Legal Defense Fund Urges Securities and Exchange Commission to Expedite Investigation of Tyson Foods
Contact: media@aldf.org
SAN FRANCISCO—Tyson Foods has come under fire in recent years after several high-profile exposés and investigations. The Animal Legal Defense Fund, the nation's preeminent legal organization for animals, is now urging the U.S. Securities and Exchange Commission (SEC) to expedite an investigation of the chicken producer in relation to the organization's 2015 undercover investigation of a Tyson Foods slaughter plant.
The SEC is charged with protecting investors, and the Animal Legal Defense Fund is urging the agency to stop Tyson Foods from enticing investors with false promises of superior animal treatment and care for its workers. Although the company attempts to portray itself as prioritizing responsible farmed animal care and worker safety, its practices reveal a drastically different reality.
Undercover video footage, obtained in a Tyson Foods Carthage, Texas processing plant, clearly shows the extremely fast speed at which chickens are hung and slaughtered. Employees are expected to hang 35 chickens per minute, which greatly increases the possibility of equipment jamming in processing plants—an issue which is captured multiple times on video, killing hundreds of birds through suffocation. The speed also makes it impossible to handle the birds in a humane fashion and creates safety concerns for Tyson Foods employees.
"Our investigation proves that the cruel treatment of chickens by Tyson Foods is not isolated incidents, but a systematic, companywide problem," says Animal Legal Defense Fund Executive Director Stephen Wells. "Tyson Foods is putting profits over not only ethical standards, but state and federal laws."
The Animal Legal Defense Fund first filed a complaint with the SEC in September 2015 asking for an investigation and enforcement of legal violations revealed by the undercover footage. In September 2016 the organization sent a follow up request to the SEC, which was routed to the agency's Office of Investor Education and Advocacy for further review.
Investors place increasing weight on issues of corporate social responsibility due to the impacts such issues have on consumer purchasing decisions, and thus stock price. The Animal Legal Defense Fund urges the SEC to hold Tyson Foods accountable for deliberately deceiving investors through false and misleading statements.
Related
The U.S. Court of Appeals for the Fourth Circuit handed an important win to plaintiffs in a lawsuit challenging North Carolina's Ag-Gag law, ruling that undercover investigations and whistleblowing are considered newsgathering activities protected by the First Amendment.

Public interest coalition celebrates another win against unconstitutional statute barring undercover investigations at factory farms

Edie Falco narrates the Animal Legal Defense Fund film demanding transparency in factory farming