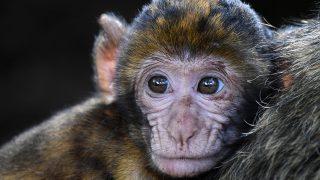 Animal Legal Defense Fund Appeals Ruling on UW-Madison's Controversial Baby Monkey Research
Group Contends University Flouted Open Records Law to Obscure Oversight Committee's Work
Contact:
media@aldf.org
MADISON, Wis. — Today, the Animal Legal Defense Fund, the nation's leading legal advocacy organization for animals, filed its opening brief in an appeal before the Wisconsin Court of Appeals. The Animal Legal Defense Fund sued the University of Wisconsin-Madison to compel the disclosure of public records surrounding taxpayer-funded experimentation on baby monkeys. The group is now appealing a decision from the Circuit Court of Dane County on the organization's motion for summary judgment.
The Animal Legal Defense Fund contends that the university violated state open records law and betrayed its commitment to open and accountable decision-making when it refused to release the full records of federally-mandated animal welfare committee meetings in which invasive research on infant monkeys was reviewed and approved.
The Animal Welfare Act requires that Institutional Animal Care and Use Committees (IACUCs) review animal research proposals, and the Animal Legal Defense Fund seeks only records created by public employees specifically paid to create such documents. UW-Madison argues that the public does not have a right to see records of the IACUC's oversight of these experiments on infant monkeys.
The Animal Legal Defense Fund's suit stems from a controversy that erupted in 2014 when UW-Madison approved "maternal deprivation" tests on baby monkeys, in which researchers proposed to take newborn rhesus macaque monkeys away from their mothers and subject them to a barrage of invasive tests and stressors. The experiment called for exposing the infants to live snakes and subjecting them to painful skin-punch biopsies and spinal taps before killing the baby monkeys at around 18 months. Widespread outcry over these cruel and archaic methods followed from the general public, bioethicists and the scientific community. To date, over half a million people have signed a Change.org petition demanding an end to the tests.
In spring of 2015, UW-Madison announced that the experiments—the central focus of which was maternal deprivation—would no longer remove the babies from their mothers, but would still subject all 40 infant monkeys to the same series of tests before killing them before age two and dissecting their brains. The records sought by the Animal Legal Defense Fund will enable the public to fulfill its traditional watchdog role and assess the scientific and ethical justification for this and other invasive research on baby monkeys.
"The public has a right to know whether taxpayer-supported review committees are properly fulfilling their statutory oversight duties with regard to experiments on animals, and how such horrific experiments on infant monkeys were justified and approved by the committee," said Animal Legal Defense Fund Executive Director Stephen Wells. "For the university to suggest that records created by public workers specifically employed to create such records are secret is absurd, and violates the core purpose of the state's open records law."
The Animal Legal Defense Fund is represented by Joseph S. Goode and Jessica L. Farley of Laffey, Leitner & Goode LLC in Milwaukee, Wisconsin. The Animal Legal Defense Fund's appeal brief is available by request.
Related
Recommendations aim to decrease risk of zoonotic disease spread, animal escapes and attacks, and psychological and physical harm to the animals

On March 23, 2023, Judge Julie Rubin of the federal district court in Maryland issued a decision, ruling that the United States Department of Agriculture (USDA) acted unlawfully by denying a petition for rulemaking to improve the standard for the psychological well-being of primates in research

Animal Legal Defense Fund files motion for summary judgement with damning evidence against the university