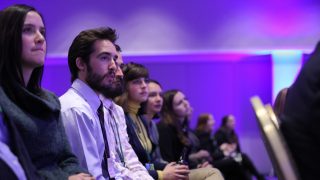 The Reducetarian Summit
September 28, 2019 - 8:00 AM
to September 29, 2019 - 4:00 PM
Crystal Gateway Marriott
1700 Jefferson Davis Highway
Arlington, Virginia
22202
United States
Join Animal Legal Defense Fund's Staff Attorney, Amanda Howell, at The Reducetarian Summit 2019!
The summit will take place over two days in Washington D.C. at The Crystal Gateway Marriott Hotel. The goal of the Reducetarian Summit is to bring together people and perspectives from all corners of the world to explore strategies and tactics for reducing societal consumption of animal products and ending factory farming. In addition to several moderated panels, lightning talks, and fireside chats, a greater emphasis will be placed on skills building workshops and curated networking opportunities. The Reducetarian Summit also features a full expo showcasing delicious plant-based food.
This two-day conference will bring over 500 participants from various industries including tech entrepreneurs, investors, philanthropists, journalists, environmentalists, CEOs, animal advocates, nutritionists, effective altruists, academics, students, and non-profit executives to engage with nearly 100 speakers, panelists, and exhibitors.
Contact Name:
The Reducetarian Summit
Contact Email:
hello@reducetarian.org
Registration Information
Related
The California Ecosystems Protection Act has continued to move through the California legislature – passing the Assembly in May and the first Senate committee in mid-June. This critical bill would ban the super-toxic rodenticides that are killing wildlife.

Reward for information leading to the arrest and conviction of the person or people responsible

Advocates for animals, free speech and the environment take on secrecy at factory farms following victories in Utah, Idaho, Wyoming and Iowa