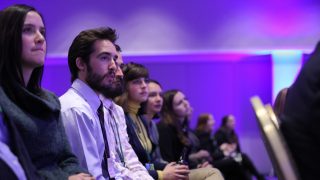 Dominion: A Legal Deconstruction
June 14, 2019 - 11:00 AM
to June 14, 2019 - 5:30 PM
Lewis & Clark Law School
10015 SW Terwilliger Blvd.
Portland, Oregon
97219
United States
The 2018 film Dominion (dominionmovement.com) won several awards for its expose of customary animal management practices pertaining to six primary facets of our interaction with animals – companions, wildlife, scientific research, entertainment, clothing, and food. Utilizing high-quality drone footage and covert cameras at concentrated animal feedlot operations and within slaughterhouses, Dominion provides audiences with a perspective that has been traditionally shielded from view and inquiry, increasingly aided by "ag-gag" laws that have repeatedly been declared unconstitutional.
While the film is free to stream online, to amplify the educational impact of viewing this film on a larger screen and in the company of colleagues, the Oregon State Bar Association's Animal Law Section is offering a legal x-ray into Dominion. Complimentary vegan appetizers and drinks are also provided.
The following legal issues will be examined by animal lawyer, adjunct animal law professor, and Animal Law Section executive committee member Adam P. Karp:
- Federal, Oregon State, and local statutes and regulations (including failed legislation) governing the issues depicted and discussed in Dominion
- Federal preemption/conflict doctrine threatening to invalidate State animal welfare laws
- The law of drones as it pertains to capturing images on matters of public importance (e.g., animal cruelty, public safety, environmental protection)
- The law pertaining to audiovisual interception by use of covert cameras
- Latest constitutional challenges to ag-gag laws
- Typical federal and state criminal charges and defenses involving individuals engaging in direct action/open rescue, including very recent, highly-publicized cases
- RPCs applicable to the foregoing legal issues
CLE credits (including ethics) pending.
$50 for lawyers seeking CLE credit
$25 for Animal Law Section members seeking CLE credit
$0 for everyone else (e.g., students, lawyers not seeking CLE credit)
Click this link to get your tickets:
https://www.eventbrite.com/e/dominion-a-legal-deconstruction-tickets-60662708795#tickets
Contact Name:
Priscilla Rader
Contact Email:
prader@aldf.org
Registration Information
Related
A dangerous bill, SB 1884, aimed at stopping whistleblowers from exposing animal cruelty is moving quickly through the Texas legislature. This bill has already passed the Texas Senate – your voice is urgently needed to prevent it from becoming law.

The Golden Gate University (GGU) Animal Legal Defense Fund Student Chapter had a busy year in 2018!

Please call (preferred) or email your representative and ask them to oppose SB 1884 – a dangerous bill aimed at stopping whistleblowers from exposing animal cruelty. This bill has already passed the Texas Senate – your voice is urgently needed!