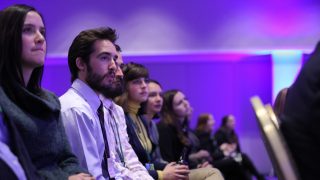 FIC Tenth Anniversary Conference: Representing Truth in Agriculture
November 15, 2019 - 8:30 AM
to November 15, 2019 - 5:00 PM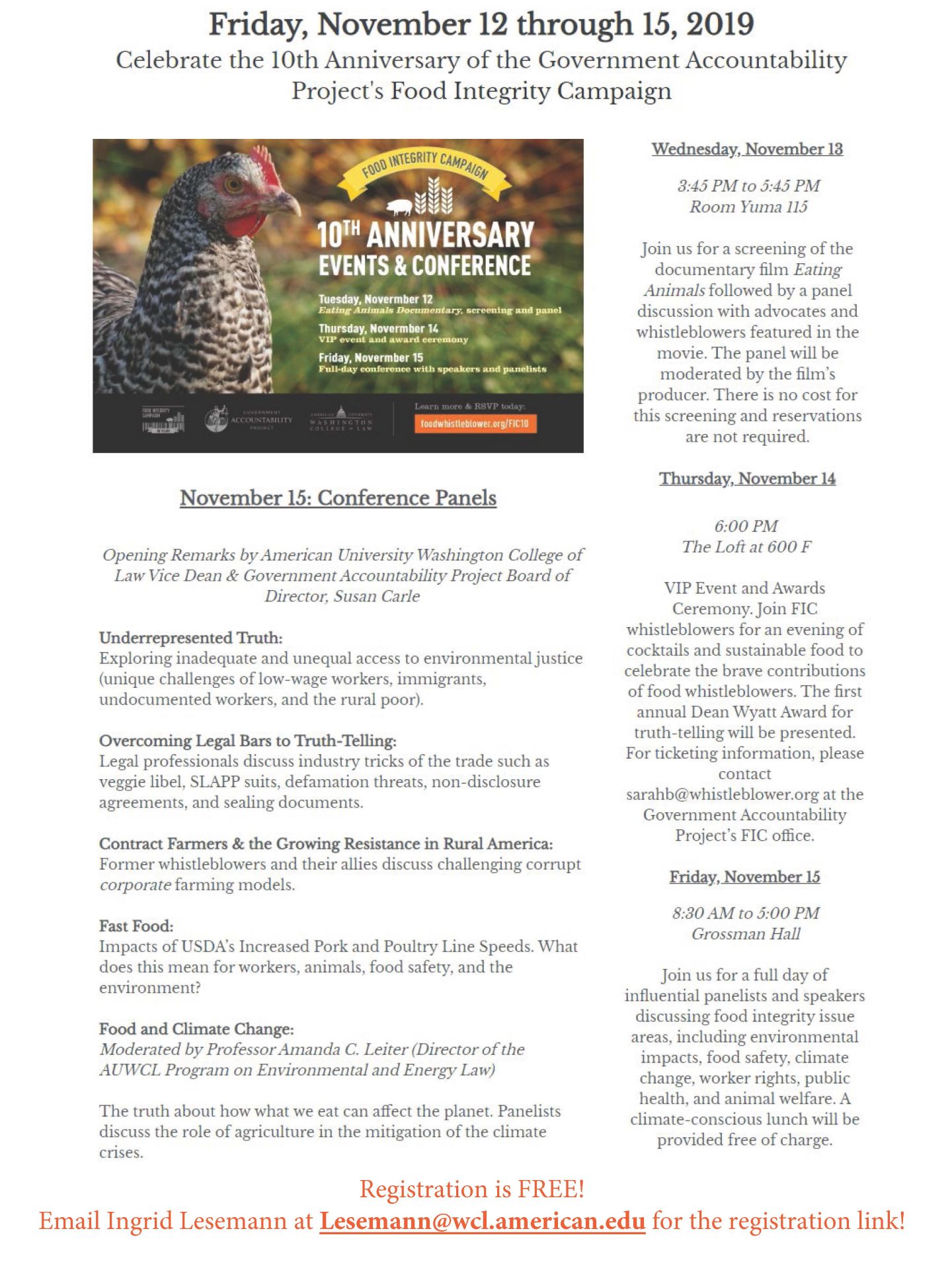 American University Washington College of Law Campus
4300 Nebraska Avenue NW
Washington, DC 20008
United States
Come Celebrate the 10th Anniversary of the Government Accountability Project's Food Integrity Campaign!
Join us for an all-day conference at American University Washington College of Law's Grossman Hall, with influential panelists and speakers discussing food integrity issue areas such as environmental impacts and climate change, worker rights, public health, and animal welfare. Registration and continental breakfast begin at 8:30 am. A climate-conscious lunch will be provided free of charge.
Conference Panels
Opening Remarks by American University Washington College of Law Vice Dean & Government Accountability Project Board of Director, Susan Carle
Underrepresented Truth:
Exploring inadequate and unequal access to environmental justice (unique challenges of low-wage workers, immigrants, undocumented workers, and the rural poor).
Overcoming Legal Bars to Truth-Telling:
Legal professionals discuss industry tricks of the trade such as veggie libel, SLAPP suits, defamation threats, non-disclosure agreements, and sealing documents.
Contract Farmers & the Growing Resistance in Rural America: 
Former whistleblowers and their allies discuss challenging corrupt corporate farming models.
Fast Food:
Impacts of USDA's Increased Pork and Poultry Line Speeds. What does this mean for workers, animals, food safety, and the environment?
Food and Climate Change:
Moderated by Professor Amanda C. Leiter (Director of the AUWCL Program on Environmental and Energy Law)
The truth about how what we eat can affect the planet. Panelists discuss the role of agriculture in the mitigation of the climate crises.
Contact Name:
ingrid lesemann
Contact Email:
lesemann@wcl.american.edu
Registration Information
Related
On an early August morning, 34 horses seized from a scene of severe neglect began their 107th day in state custody. Horse rescue volunteers had nursed the horses back to health, and ready to be adopted. But the horses needed one more thing...

The Animal Legal Defense Fund applauds Speaker Corey Johnson and the NYC Council for voting to end the sale of foie gras. Intro 1378, sponsored by Council Member Carlina Rivera, now moves to Mayor de Blasio, who is expected to sign the bill into law.

Lawsuit alleges the government has unlawfully weakened protections for threatened and endangered species