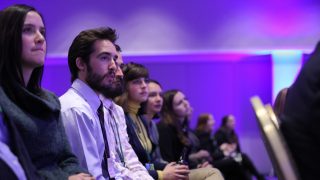 2023 Reducetarian Summit
October 27, 2023 10:00 AM to October 29, 2023 4:00 PM
MT – Mountain Time
Westin Denver Downtown
1672 LAWRENCE STREET Denver, Colorado 80202 United States
The fifth-annual Reducetarian Summit will take place over three days in Denver at The Westin Denver Downtown featuring a full expo showcasing delicious plant-based food. The Reducetarian Foundation aims to improve human health, protect the environment, and spare farm animals from cruelty by reducing societal consumption of animal products.
Don't miss Holly Bainbridge, Staff Attorney with the Animal Legal Defense Fund, who will speak about state laws that prohibit or limit the use of terms like "meat" on plant-based product labels and marketing ("tag gag laws"), Animal Legal Defense Fund's cases challenging these tag gag laws, and updates to federal regulation of plant-based product labeling. Be sure to visit the Animal Legal Defense Fund's booth in the exhibit hall throughout the weekend. We hope to see you there!
Organized by: Reducetarian Foundation
Contact Name: Megan Hume
Contact Email: mhume@aldf.org

Registration Information
Related
Numerous violations documented at the facility of inadequate animal care

Alternative sentencing program in Fulton County, Georgia pairs shelter dogs with criminal defendants to offer both training and a second chance

Lawsuit sheds light on the need to recognize legal rights for animal cruelty victims.