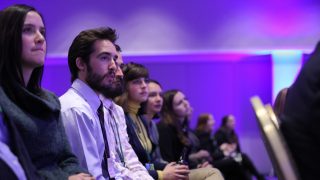 ANIMAL LAW ISSUES–Animal Law Issues in Common Practice Areas
August 5, 2021 4:30 PM to August 5, 2021 6:00 PM
PT – Pacific Time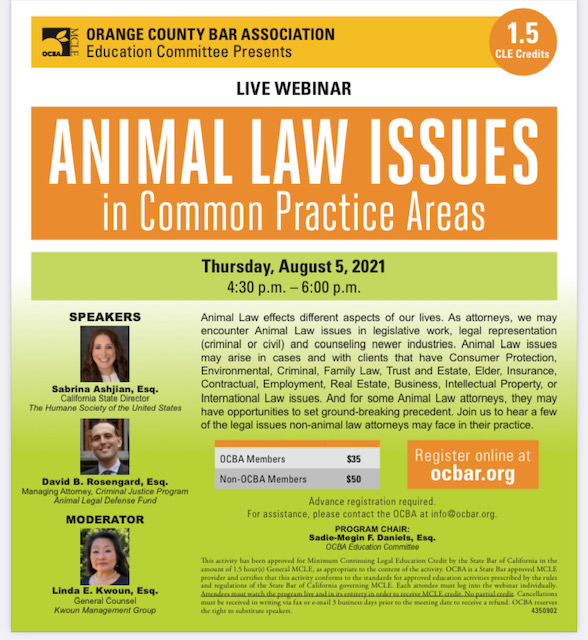 Animal Law Issues in Common Practice Areas
Animal Law effects different aspects of our lives. As attorneys, we may encounter Animal Law issues in legislative work, legal representation (criminal or civil) and counseling newer industries. Animal Law issues may arise in cases and with clients that have Consumer Protection, Environmental, Criminal, Family Law, Trust and Estate, Elder, Insurance, Contractual, Employment, Real Estate, Business, Intellectual Property, or International Law issues. And for some Animal Law attorneys, they may have opportunities to set ground-breaking precedent. Join us to hear a few of the legal issues non-animal law attorneys may face in their practice.
This is OCBA's first Animal Law Webinar. In this webinar, we will cover issues that may arise in Consumer Protection, Environmental, Criminal and Family Law. We hope this will be one of many more Animal Law Webinars to continue the discussion in the other practices areas.
Speakers:
Sabrina Ashjian, Esq.
California State Director
The Humane Society of the United States
David B. Rosengard, Esq.
Managing Attorney, Criminal Justice Program
Animal Legal Defense Fund
Moderated by Linda E. Kwoun, Esq., General Counsel, Kwoun Management Group
1.5 CLE hours credit
$35 for OCBA member, $50 for non-OCBA member
Organized by:
Orange County Bar Association

Contact Name:
Linda Kwoun


Contact Email:
kmg.linda@gmail.com

Related
Additional $20,000 reward offered for information leading to the arrest and conviction of the person or people responsible for attacking and mutilating dozens of brown pelicans on the coast of Orange County, California.

Animal Legal Defense Fund offers reward for information leading to the arrest and conviction of the person or people responsible for operating and crash-landing a drone at the Bolsa Chica Ecological Reserve in Orange County, California

Animal Legal Defense Fund increases reward offer for information leading to the arrest and conviction of the person or people responsible for attacking over 30 pelicans in Orange County, California