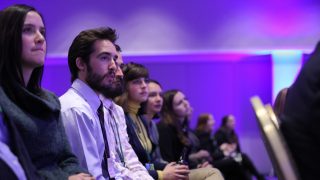 29th Annual Animal Law Conference
October 15, 2021 9:30 AM to October 17, 2021 12:45 PM
PT – Pacific Time




Join us for the virtual Animal Law Conference on October 15 – 17, 2021! Co-presented by the Animal Legal Defense Fund and the Center for Animal Law Studies at Lewis & Clark Law School, this is the country's premiere animal law event.
The pandemic has shone a bright light on our transforming relationships with animals and the urgent need to attend to those relationships in all contexts. This year's virtual Animal Law Conference will address the role of the law in defining, mediating, and reimagining our relationships with animals in every corner of our lives.
For more information and to register, visit www.animallawconference.org.
Organized by:
Animal Legal Defense Fund and the Center for Animal Law Studies at Lewis & Clark Law School

Contact Name:
Elaina Gavounas


Contact Email:
events@aldf.org

Related
Animal Legal Defense Fund asserts USDA allows Perdue Farms and others to misleadingly represent factory farmed animals in pastoral imagery

In a letter to the USDA, the Animal Legal Defense Fund and others explain the zoo has repeatedly violated standards of the Animal Welfare Act

Animal Legal Defense Fund offers reward for information leading to the arrest and conviction of the person or people responsible for binding an alligator in Seminole County, Florida