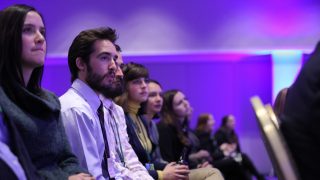 The Status of Animals in Criminal Animal Cruelty Cases: What Animal Protection Professionals Need to Know
September 29, 2020 12:00 PM
to September 29, 2020 1:00 PM
PT – Pacific Time
Join Emily Lewis and Jamie Contreras, Senior Staff Attorneys with Animal Legal Defense Fund, for a discussion of the complex status of animals in criminal law.
An animal subjected to cruelty or neglect is a crime victim unlike any other.  She is simultaneously a living being who requires care and treatment; living evidence of crime whose condition must be documented and handled in a way that does not jeopardize the case against her alleged abuser; and a crime victim entitled to certain statutory protections and sentencing considerations—all while being the property of her abuser, who may retain a constitutionally protected ownership interest.
Contact Name: Justice Clearinghouse
Contact Email: info@justiceclearinghouse.com

Registration Information
Related
As the Animal Legal Defense Fund combats dogfighting by working with state officials to create stronger laws and more effective penalties for those who engage in this crime, we're also hard at work to ensure the best possible outcomes for dogfighting victims.

The Animal Legal Defense Fund, the nation's preeminent legal advocacy organization for animals, and Humane Rescue Alliance (HRA) are offering a $10,000 reward for information leading to the arrest and conviction of the person or people responsible for the abandonment and stabbing of a senior-aged dog named Ladybell on July 12, 2020.

Earlier this summer, the driver of a pig transport truck struck and killed longtime animal advocate Regan Russell. The circumstances regarding her death are not fully known to the public, but top to bottom, the animal agriculture industry is rarely held accountable.