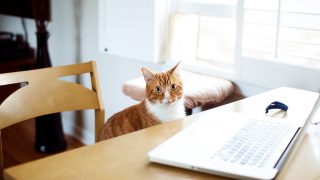 Animal Forward Academic Institutions
Colleges and universities are ideal places for students to explore interests, values and beliefs while learning more about the world around them. In a welcome trend, institutions of higher learning are beginning to offer increased opportunities for students to better understand the use of animals in today's society and how these uses can be harmful and exploitative. Humane education has become popular for school-aged children and is vital in supporting a future generation that is kind to all animals. However, humane education is also important for college students, who are often on their own for the first time and interested in learning how to make a positive difference in the world.
Healthline, an online publication dedicated to providing information on health and wellness topics, recently posted an article "The Best Universities for Vegan Eating." This list, created with help from the Animal Legal Defense Fund, mentions not only universities that offer great options for plant-based food, but that do so much more. It lists universities that offer courses on animal issues (including animal law), student clubs devoted to animal protection, community gardens that promote plant-based eating, and host speakers who are known for their animal advocacy. For example, several universities like Yale University and University of California San Diego have Meatless Mondays in their cafeteria, while others like Pacific University and Cornell University offer undergraduate courses on animal topics. Almost every school mentioned also offers an animal law course at their respective law school.
In addition to animal law courses, many of these universities have law schools with active Student Animal Legal Defense Fund (SALDF) chapters. There are currently 220 chapters in the United States and internationally. SALDF chapters are run by law students and host speakers and fundraisers, volunteer in their communities, organize educational events for students and faculty, and promote the field of animal law within the legal community. At the undergraduate level, these universities often have student-run clubs that focus on animal issues.
The Animal Legal Defense Fund applauds Healthline for putting together a list of great schools that are welcoming of animal protection efforts by students and faculty alike. Together, we can inspire and empower the next generation of animal advocates to create a better world for everyone.
Related
In May 2018, the Animal Legal Defense Fund filed a unique lawsuit in Oregon on behalf of a severely maltreated horse named Justice. Justice suffered starvation, frostbite, and other grave injuries due to his owner's failure to provide him with basic care.

On Saturday, September 8th, the Animal Legal Defense Fund hosted its Justice for Animals Gala 2018 in Los Angeles, CA.

During this interactive webinar, Joyce Tischler will detail the lives of farmed animals and the laws (or lack thereof) that protect them.