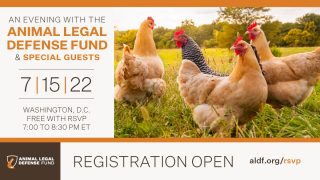 An Evening with the Animal Legal Defense Fund
Friday, July 15, 2022 in Washington D.C.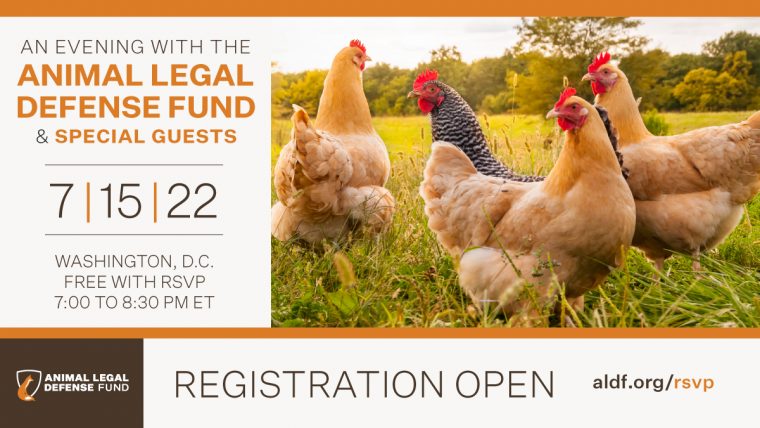 The Animal Legal Defense Fund's unique legal strategies are designed to impact the industrial animal agriculture industry from multiple angles, including increasing regulations with higher enforcement for animal care, holding the industry responsible for its disastrous environmental impact, and outlawing the cruelest practices and the subsidies that pay for them. You'll be updated by senior staff on our most recent victories and priorities. The event is free with your RSVP.
Join the Animal Legal Defense Fund at the Taking Action for Animals Conference to learn how you can advocate for animals in the legal system. Refreshments will be served.
Date: Friday, July 15, 2022
Time: 7:00 – 8:30 pm ET
Location: Renaissance Washington, DC Downtown Hotel
999 9th St NW, Washington, DC 20001
Meeting Room 16

HEALTH & SAFTEY REQUIREMENTS:
In an effort to keep attendees, speakers, and event staff as safe as possible, all participants will be required to comply with the Taking Action for Animals 2022 Health & Safety protocols. All participants must be fully vaccinated and must wear a face mask over their mouth and nose at all indoor gathering spaces and events, except when presenting, eating, or drinking.
Related
Numerous violations documented at the facility of inadequate animal care

Alternative sentencing program in Fulton County, Georgia pairs shelter dogs with criminal defendants to offer both training and a second chance

Lawsuit sheds light on the need to recognize legal rights for animal cruelty victims.