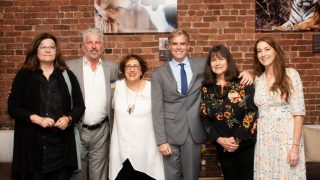 An Evening with the Animal Legal Defense Fund – New York City
On Thursday, May 31, the Animal Legal Defense Fund hosted "An Evening with the Animal Legal Defense Fund" in New York City. Guests learned about our recent victories and plans for the upcoming year. Animal advocates mingled with key staff members including Executive Director Stephen Wells and Joyce Tischler, founder and general counsel of the Animal Legal Defense Fund. The event also included Animal Legal Defense Fund board members Sarah Luick (board chair), Andrea Arden, Morgan Mulford, and Elizabeth Hess.
Attendees viewed a short video about the Animal Legal Defense Fund's mission to protect the lives and advance the interests of animals through the legal system. Additionally, Executive Director Stephen Wells presented an award to Nicoletta J. Caferri, Chief of the Animal Cruelty Prosecutions Unit in the Queens County District Attorney's Office in New York City, for her outstanding work on behalf of animals.
The sold-out event, held at the 287 Gallery in the heart of Chelsea, featured a few famous canines who stole the show and kept guests focused on the reason we hold these events in the first place – for the animals.
Related
Maryland Residents, Ask Your Maryland Legislators to Enact HB 213/SB 143 to Protect Rays from Killing Contests

The Animal Legal Defense Fund is offering our assistance in investigating the death of a zebra who died after being left out in last week's record breaking subzero weather in northern Indiana. We also renew our call for stronger animal protection laws.

In January 2019, the National Council of Juvenile and Family Court Judges (NCJFCJ), in partnership with the Animal Legal Defense Fund hosted the first-ever formal judicial convening focused on animal cruelty cases.