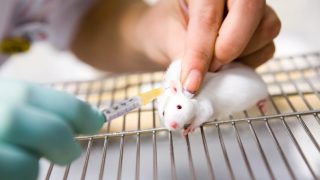 Animal Legal Defense Fund Urges APHIS to Strengthen Regulations Protecting Research Animals
About forty-five years ago, Congress passed the Animal Welfare Act (AWA) to ensure that animals receive humane care and treatment. Sadly, since that time, too many laboratories in the United States have continued to subject research animals to painful—and unnecessary—experimental procedures.
Refusing to stand idly by, the Physicians Committee for Responsible Medicine (PCRM) recently petitioned the Animal and Plant Health Inspection Service (APHIS) to clarify and strengthen the regulations implementing the AWA to ensure that research facilities more fully explore and exhaust alternatives to animal research. APHIS responded to the petition by soliciting public comments, and ALDF, with the assistance of pro bono legal counsel Proskauer Rose, embraced the opportunity to speak out in favor of the petition.
In our comments to APHIS, we chronicled the well-established intent of Congress to significantly restrict the use of animals by research facilities. The stated purpose of the AWA is, after all, to "expand the perimeters of its protection to more animals" used "in the pursuit of medical and scientific knowledge." And, by amending the AWA in 1985 through the Improved Standards for Laboratory Animals Act (ISLAA), Congress clearly enunciated its commitment to the humane and ethical treatment of research animals.
Yet, while ISLAA urged the development of non-animal models to replace painful procedures performed on animal subjects, the loopholes and vague wording in the regulations implementing the AWA have failed to prevent widespread animal abuse in the research context. Sadly, laboratory animals are still subject to duplicative, unnecessary and painful experimental procedures. We continue to urge APHIS to take the PCRM petition and our comments under serious consideration, and take affirmative action against the inhumane treatment of research animals.
Related
Proposed rule would maintain an unnecessarily complicated and confusing process for children to get access to plant-based milk

Recommendations aim to decrease risk of zoonotic disease spread, animal escapes and attacks, and psychological and physical harm to the animals

Animal Legal Defense Fund petition for rulemaking spurs reporting improvements: Forms will be revised to ensure AWA licensees maintain complete records of all animal deaths.