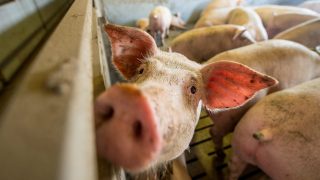 Activist Faces Criminal Charges for Giving Water to Thirsty Pigs
By Nicole Pallotta, Academic Outreach Manager
In contrast to the recent spate of legislation designed to protect companion animals trapped in hot cars, a Canadian activist faces criminal charges for offering water to farmed animals confined in a hot truck. The trial has begun for Toronto animal advocate Anita Krajnc, who in June 2015 was arrested and charged with criminal mischief for "interference with the use, enjoyment and operation of property" after giving water to panting pigs confined in a sweltering trailer on a hot summer day. According to Krajnc, the pigs were overheated and severely dehydrated when she offered them water through narrow openings in the truck when it stopped at a traffic light on the way to a slaughterhouse. The owner of the pigs filed a police complaint the following day.
Kranjc has pleaded not guilty. Speaking outside the courthouse last month, she said, "When I see a pig in a truck, to me, it's just like seeing a dog in a truck," alluding to the disparity between what is considered acceptable treatment of animals defined as pets versus those defined as food. As this case highlights, in both the Canada and the U.S., farmed animals have few meaningful protections under the law, leaving them vulnerable to cruel and neglectful treatment that would be illegal if the victim were a companion animal.
Kranjc is co-founder of Toronto Pig Save, which holds weekly vigils at slaughterhouses and offers water and watermelon to dehydrated pigs on their way to pork processing facilities. Her case was heard in the Ontario Court of Justice on August 24-25 and will resume in October. If convicted, she faces up to $5,000 in fines, six months in jail, or both.
Further Reading:
Related
The U.S. Court of Appeals for the Fourth Circuit handed an important win to plaintiffs in a lawsuit challenging North Carolina's Ag-Gag law, ruling that undercover investigations and whistleblowing are considered newsgathering activities protected by the First Amendment.

Edie Falco narrates the Animal Legal Defense Fund film demanding transparency in factory farming

D.C. Court of Appeals rules Animal Legal Defense Fund can pursue its claims