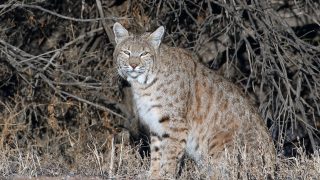 Roxy's Law (New Mexico)
The Wildlife Conservation & Public Safety Act (SB 32)
Bans traps, snares, and poisons on public lands.

Wildlife
Roxy, a senior dog, was hiking with her guardians when she was trapped near a trail at Santa Cruz Lake in Northern New Mexico. Her guardian tried to free her, but Roxy was strangled to death before he could loosen the snare. Roxy's Law, also known as the Wildlife Conservation & Public Safety Act (SB 32), bans the use of traps (including leghold, body-gripping, and cage traps), snares, and poisons on public lands in New Mexico.
Every year, countless numbers of animals are maimed or killed by traps. Trapped animals frequently suffer slow, painful deaths; some animals even chew off their own limbs in a desperate attempt to free themselves. Traps, snares, and poisons don't discriminate — companion animals and endangered or threatened species can be killed or injured by these cruel methods. Trapped and snared animals endure extreme cruelty, suffering from dehydration, starvation, and broken bones, and are vulnerable to attack by other animals. Wild animals who survive until the trapper returns are often ultimately bludgeoned or choked to death.
Roxy's Law will help safeguard public lands and the animals and people who visit them and ensure a thriving, humane outdoor recreation economy. Arizona and Colorado already have similar prohibitions on trapping on public land. Further, California banned trapping for the purpose of recreation and commerce in fur with the passage of the Wildlife Protection Act of 2019.
Governor Michelle Lujan Grisham signed Roxy's Law on April 5th, 2021. The Animal Legal Defense Fund was glad to assist the broad coalition of organizations supporting this bill and engage advocates in New Mexico. The passage of this bill is the result of more than a decade of hard work by local advocates, including New Mexico's Animal Protection Voters and the Trap Free New Mexico coalition, as well as the leadership of the bill's sponsors, Senator Bobby Gonzales (D-Ranchos de Taos) and Senator Brenda McKenna (D- Corrales) in the Senate and Representative Matthew McQueen (D-Galisteo) and Representative Christine Chandler (D-Los Alamos).
Join the Animal Legal Defense Fund's email list to stay up to date on lawsuits, legislation, and regulations affecting animals.
Sign Up Now