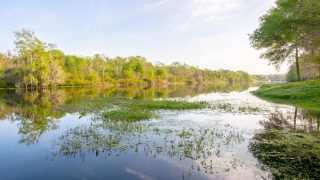 Recognizing the Right of Waterways to Be Free of Pollution (Orange County, Florida)
'Right to Clean Water Initiative,' Charter Question 1 — Public Vote
Recognizes waterways in Orange County, Florida have a right to exist, flow, be protected against pollution, and maintain a healthy ecosystem
Wildlife
Status
Charter Amendment passed on November 4, 2020
Charter Question 1, the "Right to Clean Water" initiative, in Orange County, Florida was a groundbreaking 'rights of nature' charter amendment that recognizes the waterways in Orange County, including the Wekiva River and the Econlockhatchee River, have a right to exist, flow, be protected against pollution, and maintain a healthy ecosystem. It also empowers residents to file lawsuits to protect their waterways from polluters and requires waterways be restored after pollution occurs.
Orange County is the largest municipality in the country to have passed a 'rights of nature' initiative, and this was the first time county voters considered this type of charter in the United States. On November 4, 2020, Charter Question 1 passed overwhelmingly, receiving 89% of the vote.
Wild animals depend on clean water for their survival, and contaminated drinking water jeopardizes human health. Yet over half of Florida's waterways, including many in Orange County, have been declared "impaired" — meaning they don't meet the state's water quality standards — by the Florida Department of Environmental Protection.
For too long, unchecked industries, including animal agriculture and land development, have endangered the state's human and non-human inhabitants. Charter Question 1 safeguards the county's waters from a political system that too often favors corporate interests over the environment by empowering residents to take legal action to enforce the law.
Increasing levels of nitrates are devastating the Wekiva River and Econlockhatchee River ecosystems, fueling harmful algal blooms that deplete oxygen levels, killing fish and other marine animals, as well as disrupting reproduction and plant growth. Nitrates and other contaminants are also endangering vulnerable residents, such as pregnant women and the elderly, who are at greater risk of becoming ill from drinking contaminants.
The Animal Legal Defense Fund was proud to endorse Charter Question 1, spearheaded by the Right to Clean Water campaign, as well as encourage Orange County residents to support this important initiative. The amendment's passage sends a clear message that the public strongly supports rights of nature initiatives.
Join the Animal Legal Defense Fund's email list to stay up to date on lawsuits, legislation, and regulations affecting animals.
Sign Up Now