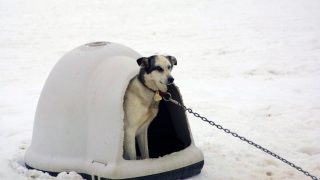 Winter Weather Advisory: Keep Animals Safe and Warm This Winter
Tips from the Animal Legal Defense Fund
Contact: media@aldf.org
(COTATI, Calif) – With winter—and low temperatures—upon us it is all too common for dogs and cats to be left outdoors in the cold to suffer severe frostbite or even to freeze to death.
The Animal Legal Defense Fund, the nation's premiere legal advocacy organization for animals, has tips on how animal lovers can use the law to help animals in their communities stay safe this season.
1. Do not leave companion animals outside.
It is illegal to allow a companion animal to suffer injury or death by leaving them outdoors with inadequate protection from the elements in all 50 states and the District of Columbia.
Violators can be charged with animal cruelty and neglect.
2. If you see an animal in distress outdoors, call 911.
The best thing people can do when they see an animal in distress is to document the conditions the animal is in—preferably by taking photographs and video—and to call law enforcement.
A law enforcement officer is able to determine whether the animal has the shelter and safety from the elements required by local and state laws.
3. Know your state's laws.
State laws differ dramatically when it comes to defining the standards of care required for animals and clarifying what people can do to help animals in distress. New Jersey's law, for example, describes in detail what is considered a proper shelter for an animal including that it must have "insulation, dry bedding, and a windbreak at the entrance," while Iowa's merely states that cats and dogs must be provided with "adequate shelter," without providing any specific definition. New Mexico's law doesn't mention shelter at all in its cruelty and neglect code.
Some states like Florida, Illinois, Ohio and Vermont have statutes insulating civilians from civil liability for rescuing animals under select circumstances in emergency or disaster scenarios.
In 11 states—Arizona, California, Colorado, Florida, Indiana, Massachusetts, Ohio, Oregon, Tennessee, Vermont and Wisconsin—good Samaritan laws give civilians some options to rescue an animal from a vehicle in extreme weather conditions, whether it's summer heat or dangerous winter cold.  While rescuers in each of those states must meet different requirements, no matter the law, it's always a good idea to start by calling 911.
4. Let people know it's not okay to leave their animals outside in extreme weather.
Unfortunately, many people mistakenly think animals are better prepared to handle cold than humans are. If you witness a companion animal left outside in the cold, approach their guardian and kindly explain that if it's too cold for a person to be outside, it's time to bring animals in, too.
Related
The Animal Legal Defense Fund announced that a settlement agreement has been reached with the Animal Kingdom pet store in a high-profile lawsuit over a puppy laundering scheme to unlawfully circumvent the California "retail pet sale ban" — a law that bans the sale of dogs from commercial breeders, commonly called puppy mills.

This week, the Superior Court of California in Solano County found the owner of California Carolina Dogs, a puppy mill located in Vallejo, liable for violating the Polanco-Lockyer Pet Breeder Warranty Act following a lawsuit filed by the Animal Legal Defense Fund on behalf of Caru SPCA.

As shelter-in-place orders are given across the nation, there is a growing concern that family violence will be on the rise.