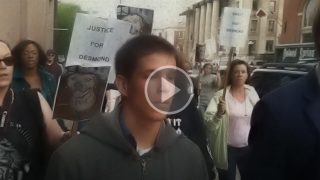 Short Film Released with Actress Anjelica Huston as New York Considers Adopting Courtroom Animal Advocate Programs
Huston narrates the Animal Legal Defense Fund film demonstrating the impact legal advocates can have on behalf of animal cruelty victims
ALBANY, N.Y. — Today, the Animal Legal Defense Fund released The Case for Courtroom Animal Advocate Programs, a short film narrated by Academy Award-winning actress and director Anjelica Huston, which focuses on the importance of Courtroom Animal Advocate Program (CAAP) laws — as New York legislators considers a bill that would implement the program in the state.
"Defense attorneys have a duty to their client, prosecutors have a duty to the state, but no one is tasked with directing the court's attention to an animal victim's needs," says Anjelica Huston. "Animals involved in cruelty cases require special considerations — they can be living 'evidence' who need food, water, socialization, and veterinary care — and they need a voice in court."
The film is available at aldf.org/CAAP.
A.5315/S.3525, the New York CAAP bill, has been introduced in the New York Legislature and was referred to the Judiciary committees in both the Assembly and the state Senate. The bill is currently under consideration as the Legislature is in the second year of its two-year session.
"It's long past time that our laws begin to recognize animals as the sentient beings that they are. Connecticut and Maine have made strides toward changing this view by implementing courtroom animal advocate programs," says Assemblymember Linda B. Rosenthal (D/WF – Manhattan). "Under these programs, courts may appoint special advocates to represent the interests of abused and neglected animals, giving a voice to the voiceless. Similar to those appointed to represent the interests of children and other vulnerable crime victims, these advocates help monitor the case, review documents and attend hearings, ultimately ensuring that the best interests of the animals are served. I am proud to be the sponsor of legislation in New York State (A.5315) to create a CAAP program and look forward to continuing to work with the Animal Legal Defense Fund to pass it into law."
Connecticut passed the nation's first statewide CAAP law, also known as Desmond's Law, in 2016. The film tells the story of Desmond — a dog who was found dead in a trash bag in the woods, after being strangled to death — and the campaign by local advocates and state legislators to pass the law in his name.
CAAP laws allow advocates — supervised law students or volunteer attorneys — to advocate for animal victims in criminal cruelty cases. Volunteers appear in court and assist the judge by drafting briefs,; conducting research; gathering information from veterinarians, animal control officers, and law enforcement officials; and making recommendations on behalf of the animal victim's interests.
Joining Assemblymember Linda Rosenthal in championing New York's CAAP bill are co-sponsors Thiele, Simon, Paulin, Burdick, Gonzalez-Rojas, and Englebright. In the Senate, Sen. Jamaal Bailey is the sponsor, joined by Sens. Addabbo, Biaggi, Krueger, and Stavisky.
In January 2020, Maine adopted a similar law, known as Franky's Law, to help protect animals in the state. Similar bills are currently being considered in New Jersey and Florida.
Join the Animal Legal Defense Fund's email list to stay up to date on lawsuits, legislation, and regulations affecting animals.
Sign Up Now
Related
Actress Christian Serratos narrates the Animal Legal Defense Fund film advocating for an end to puppy mills

Predatory financing law bans loans that often trap borrowers with high interest rates

The grant will support groundbreaking work of the Courtroom Animal Advocate Program of the Animal Law Clinic at the UConn School of Law.