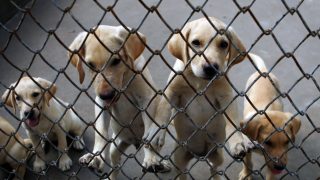 RICO Lawsuit Filed Against Puppy Mill Broker JAKS Puppies and Its Ring of Associates
Class-action lawsuit alleges thousands in California purchased dogs under the false belief they were rescue animals
Contact: media@aldf.org
LOS ANGELES — Today, the Animal Legal Defense Fund filed a class-action lawsuit against a network of individuals and businesses who conspired with California pet stores to sell puppy mill dogs mislabeled as "rescues." The suit alleges that Midwest puppy mill broker JAKS Puppies and its owners Jolyn Noethe and Kimberly Dolphin, funneled dogs through fake animal rescue organizations Rescue Pets Iowa, Bark Adoptions, and Pet Connect Rescue, and worked with other associates and pet stores to profit off of puppy mill dogs despite California's ban on such sales. The practice is known as "puppy laundering," a term coined by the Iowa Attorney General's Office in a 2019 lawsuit against some of the same defendants. The California plaintiffs are consumers who bought puppies under the mistaken belief they were rescues. They bring claims under the federal anti-racketeering statute (RICO) and California consumer protection laws. The plaintiffs and class representatives, Rebecca Carey and Cody Latzer, are represented by the Animal Legal Defense Fund, the nation's preeminent legal advocacy organization for animals, and Smith & Lowney PLLC, a Seattle-based class action firm. Documents obtained by the Animal Legal Defense Fund confirm thousands of puppies entered California misrepresented as rescue dogs — injured consumers are encouraged to contact the organization.
Since California's puppy mill sales ban came into effect in 2019, JAKS and its associates have been using several fake rescues to launder thousands of commercially bred puppies to pet stores throughout California. Through a network of fake rescues and hidden payments, JAKS and others deceived consumers into believing that they were adopting rescue animals. In fact, the breeders from which JAKS selected the puppies it sent into California operate some of the worst puppy mill facilities in the country, according to government inspection reports.
"This brazen puppy laundering scheme orchestrated by JAKS to profit from the puppy mill industry — after Californians have made clear they want no part of it — is almost unbelievable," says Animal Legal Defense Fund Executive Director Stephen Wells. "This demonstrates how far breeders, millers, and brokers will go to disguise their cruel and abhorrent industry to profit from animals' suffering."
The lawsuit includes a RICO claim, in addition to several state law claims, because the various defendants created or participated in an illegal scheme intended to deceive regulators and consumers into believing dogs sourced from commercial puppy mills were rescue animals —allowing the defendants to profit off the illegal sales. The laundering activities crossed state boundaries, with defendant puppy transportation company Subject Enterprise transporting dogs from the Midwest to California pet stores and secretly carrying payments from the pet stores back to JAKS. To carry out this scheme, the defendants violated mail and wire fraud laws and actively laundered money, among other activities.
The defendants involved in the scheme identified in the lawsuit include JAKS Puppies, Inc., Jolyn Noethe, Kimberly Dolphin, Russell Kirk, Rescue Pets Iowa Corp., Two Brothers Having Fun LLC doing business as The Pet X Change, Bark Adoptions, Stephanie Vaughn, Ana Diaz, Pet Connect Rescue, Inc., Ray and Alysia Rothman, Subject Enterprise, Inc., Coda Subject, Micada Inc. doing business as Animal Kingdom, and Adam Tipton.
California was the first state to pass a pet retail sale ban in 2017, with Maryland and Illinois following suit. Many major cities have instituted similar laws, including Chicago, Boston, and Philadelphia.
If you purchased a puppy in California from a pet store in 2019 or later, please contact the Animal Legal Defense Fund at www.aldf.org/puppy2019.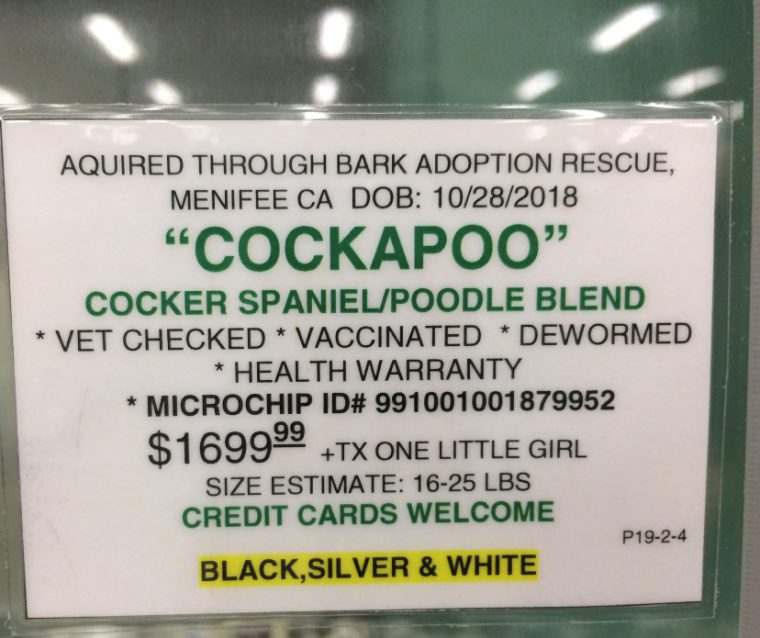 Puppy mill operators maximize their profits by producing large numbers of puppies as quickly as possible. As a result, unsanitary conditions, disease, and neglect are rampant. Sign our pledge to boycott puppy mills. Together we can end this cruel industry.
Sign Petition
Related
Alternative sentencing program in Fulton County, Georgia pairs shelter dogs with criminal defendants to offer both training and a second chance

Actress Christian Serratos narrates the Animal Legal Defense Fund film advocating for an end to puppy mills

Predatory financing law bans loans that often trap borrowers with high interest rates