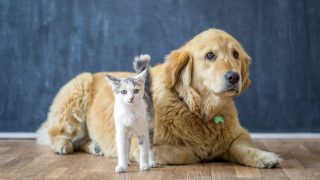 Plan Ahead — Prepare an Emergency Plan for Pet Care
The Animal Legal Defense Fund urges pet parents prepare a plan
Contact: media@aldf.org, 707 364 8387
San Francisco — The current COVID-19 pandemic may have you worried about how best to care for your family, including pets, if you fall ill or need to leave the home for an extended time. The Animal Legal Defense Fund is offering advice on what you should prepare for your animals' care, should the primary caregivers of pets be unavailable.
While you should always have an emergency plan in place for your pets, the unique circumstances created by COVID-19 may present new factors to consider when putting together a care plan. The Animal Legal Defense Fund recommends preparing a bag with documentation and supplies in advance of an emergency.
Ideally, you should have a plan in place for your pets, that includes:
A designated care person who has access to your home to care for your pets. Due to many lockdown orders in many states, traveling is more complicated. Consider asking someone local, like a neighbor, to be an emergency caregiver for your pets.
A three to six-week supply of food, treats, water, and litter. Write a note with the amount of food and times of day your animal is fed.
If your pet is on any medication, make sure to have a 30-day supply readily available and provide detailed dosage instructions.
A list of any allergies your pet may have.
Vaccination and medical records.
Easy access to collars, harnesses, leashes, and travel crates or carriers.
If applicable, that your animal is wearing a tag with contact information.
Something that will comfort your pet if they need to be removed from the home, like their favorite toy, a bed, or something that smells like you.
A pet first aid kit.
Veterinarian contact information and an emergency veterinarian's contact information, in case your pet's veterinary office is closed due to COVID-19 precautions.
A current photo of your pet.
Proof of guardianship, like adoption paperwork.
If you live alone, consider signage in your home that is visible indicating there is an animal in the home. Additionally, this is a great time to make sure your pet's microchip is registered and up to date.
These are uncertain times. Our animals rely on us and we are their first line of defense. Having an emergency plan in place will ensure their health and safety.
Join the Animal Legal Defense Fund's email list to stay up to date on lawsuits, legislation, and regulations affecting animals.
Sign Up Now
Related
A coalition, led by the Animal Legal Defense Fund, filed an emergency petition with the USDA to prevent COVID-19 relief funds, resources, and any other forms of support from facilitating or compensating for the costs of ventilation shutdown or water-based foam "depopulation" — the mass killing of animals on factory farms.

As the Animal Legal Defense Fund combats dogfighting by working with state officials to create stronger laws and more effective penalties for those who engage in this crime, we're also hard at work to ensure the best possible outcomes for dogfighting victims.

The Animal Legal Defense Fund, the nation's preeminent legal advocacy organization for animals, and Humane Rescue Alliance (HRA) are offering a $10,000 reward for information leading to the arrest and conviction of the person or people responsible for the abandonment and stabbing of a senior-aged dog named Ladybell on July 12, 2020.