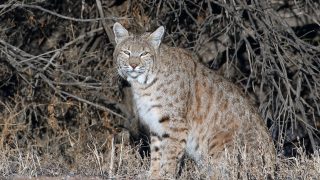 New Mexico: Protect Animals and People On New Mexico's Public Lands by Banning Traps, Snares, and Poisons
This action is CLOSED.
Update: Governor Michelle Lujan Grisham signed Roxy's Law on April 5, 2021! This success is the result of more than a decade of hard work by local advocates, including New Mexico's Animal Protection Voters and the Trap Free New Mexico coalition, as well as the leadership of the bill's sponsors, Senator Bobby Gonzales and Senator Brenda McKenna in the Senate and Representative Matthew McQueen and Representative Christine Chandler in the New Mexico House of Representatives.
Right now, New Mexico is poised to make great strides for the protection of animals and toward safer public lands and a thriving, humane outdoor recreation economy by banning the use of traps, snares, and poisons on public lands. The Wildlife Conservation & Public Safety Act (SB 32), also known as Roxy's Law, has been passed by the New Mexico Legislature and now awaits signature by Governor Michelle Lujan Grisham.
Traps, snares, and poisons don't discriminate — companion animals and endangered or threatened species can be killed or injured by them. Roxy's Law is named in honor of a senior dog who died in a neck snare on public land in 2018. Roxy was hiking with her guardians when she was snared at Santa Cruz Lake in Northern New Mexico. Her guardian tried to free her, but Roxy was strangled to death before he could loosen the snare.
Join the Animal Legal Defense Fund's email list to stay up to date on lawsuits, legislation, and regulations affecting animals.
Sign Up Now
Related
The Act has authority to protect federally endangered and threatened animals such as the tigers, lions, and ring-tailed lemurs enduring inadequate treatment at Tiger Creek

International Fur Trade Federation agreed to dismiss its appeal, ending case in decisive victory for animals

Class-action lawsuit alleges thousands in California purchased dogs under the false belief they were rescue animals