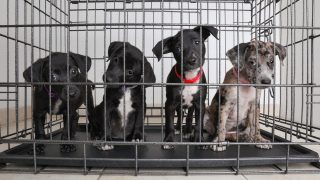 Lawsuit Filed Against Fraudulent Puppy Traffickers Who Sold Sick Dogs via Craigslist
Animal Legal Defense Fund and CPM seek to hold Kenney family accountable for defrauding customers and harming dogs in violation of California law
Contact: media@aldf.org
LOS ANGELES – For years, the Kenney family — husband and wife Trina and Rick, and adult children Elijah and Jezriel — have defrauded consumers in Southern California by misrepresenting the health, age, sex, and breed of puppies they breed and sell through Craigslist and other sites on the internet, as alleged in a complaint recently filed in the Los Angeles Superior Court and as covered in the Los Angeles Times today.
The allegations are that the puppies are often dyed with hair dye to make them appear to be another color and breed, and are sold with fake immunization records to misrepresent the puppies as healthy and having been checked by veterinarians. Many of the puppies have died mere days after purchase from diseases concealed by the Kenneys and caused by the Kenneys' failure to provide the puppies proper veterinary care, including immunizations.
According to the lawsuit, this scheme has allowed the puppy traffickers to reap enormous profits — while those tricked into purchasing sick, underage puppies have been devastated by their dogs' sickness and deaths and saddled with enormous veterinary bills.
The Animal Legal Defense Fund and Cotchett, Pitre & McCarthy have filed the lawsuit against Trina, Rick, Elijah, and Jezriel Kenney on behalf of nine plaintiffs who purchased underage and sick puppies from the family in 2018 and 2019. Trina Kenney was previously federally prosecuted and convicted of felony mail fraud for selling abused and sick horses.
"The goal of puppy mills and puppy brokers is to produce and sell the largest number of puppies as quickly as possible, without consideration for the health or well-being of the animals," says Animal Legal Defense Fund Executive Director Stephen Wells. "The Kenneys have been perpetrating this scheme for years — and we intend to put an end to their cruel and illegal practices."
This lawsuit, based on multiple California laws prohibiting misleading and fraudulent business practices, seeks to end the Kenneys' deceptive marketing and sale of puppies, and to recover damages for those who were victimized by the unscrupulous conduct.
The victims' stories are heartbreaking. Typical is what happened to newlyweds Brittany and Brandon Swigart, who in February 2019 responded to the Kenneys' Craigslist ad for an 8-week-old mini-labradoodle puppy. The couple paid $1,200 in cash for Winnie, the puppy they were thrilled to add to their new family. The Kenneys said Winnie was 8 weeks old and fully vaccinated — but the Swigarts soon learned that Winnie was only 4 weeks old, had been dyed brown, and had not been vaccinated. Winnie died just weeks after the Swigarts brought her home, from a disease she contracted because the Kenneys had not provided her vaccines they told the Swigarts she'd received. Winnie never weighed over one pound.
"These defendants are selling diseased puppies. Worse yet, they grab the cash and then lurk behind the internet, leaving the innocent puppies to die a painful death. No child should have to watch their puppy die. Our lawsuit says 'Time is up' on this scam," says attorney Gary Praglin of the nationally recognized trial law firm Cotchett, Pitre & McCarthy.
The Animal Legal Defense Fund is working across the country to combat puppy mills and unscrupulous puppy sellers, using multiple legal channels.
Joe Cotchett, Gary Praglin, and Neda Lotfi of the law firm Cotchett Pitre & McCarthy LLP are representing the victim families in this case.
A copy of the complaint, and photos of the plaintiffs' puppies, are available upon request.
Related
Animal Legal Defense Fund's amicus brief urges the court to review a case regarding the negligent death of a dog and the resulting emotional damages

Goldie's Act would ensure the USDA does its job to protect dogs in federally licensed puppy mills

Alternative sentencing program in Fulton County, Georgia pairs shelter dogs with criminal defendants to offer both training and a second chance