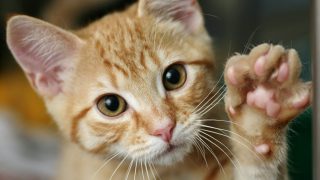 Delaware: Stand up for cats today!
This action is for Delaware residents only.
Current law in Delaware allows landlords to require a tenant to have their cat declawed as a condition for entering into or renewing a rental agreement. H.B. 386 would prohibit landlords from utilizing such a requirement to force a needless and painful declaw procedure on their tenants' feline companions.
Help protect cats by urging Governor Carney to sign Delaware's H.B. 386 into law!
Join the Animal Legal Defense Fund's email list to stay up to date on lawsuits, legislation, and regulations affecting animals.
Sign Up Now
Related
Huston narrates the Animal Legal Defense Fund film demonstrating the impact legal advocates can have on behalf of animal cruelty victims

A Courtroom Animal Advocate Program (CAAP) bill, S.2868/A.4533, which would allow law students and volunteer lawyers to advocate for animal victims in cruelty criminal cases, unanimously passed the New Jersey Senate. The bill is sponsored by Senator Nicholas Scutari and Assemblyman Raj Mukherji and endorsed by the Animal Legal Defense Fund.

Breeding operation, Adorable Stars, sells parasite-ridden kittens suffering from severe and fatal ailments