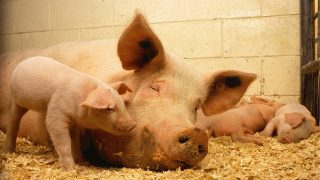 Court Greenlights Deceptive Advertising Case Against Hormel "Natural Choice" Products
D.C. Superior Court Denies Hormel's Motion to Dismiss Case Filed by Animal Legal Defense Fund
Contact: media@aldf.org
Washington, DC – Today the Animal Legal Defense Fund, Public Justice, and the Richman Law Group announced that the D.C. Superior Court has denied Hormel Foods' motion to dismiss the groups' lawsuit against the meat giant, allowing the case to move forward into the discovery phase.
The lawsuit, filed in June 2016, alleges Hormel is misleading consumers through the advertising of its Natural Choice® brand of lunch meats and bacon, in violation of the D.C. Consumer Protection Procedures Act.
Contrary to Hormel's branding campaign, the suit alleges, meats the company advertises as "natural" actually come from animals raised in the worst factory farms that use additives, hormones and antibiotics, contain ingredients that constitute artificial preservatives and confine animals indoors in cramped, unsanitary conditions.
The court denied Hormel's motion to dismiss the suit, rejecting the company's argument that federal meat and poultry inspection and labeling law trumps the suit's DCCPPA claim. The court's ruling makes clear that the Federal Meat Inspection Act does not shield meat companies from being held accountable for deceptively advertising factory farmed meat as "natural."
According to a 2015 Consumer Reports survey, half of consumers believe the "natural" designation on meat and poultry means animals were raised outdoors.
The Animal Legal Defense Fund contends that Hormel furthers consumer misperceptions through its Natural Choice® ads, and that the products in fact do not come from more humane or more natural farms, but from the same factory farms as any of Hormel's other products.
"We look forward to seeing Hormel in court," says Animal Legal Defense Fund Executive Director Stephen Wells. "This case is an important step in our fight for transparency in animal agriculture and truth in meat advertising."
Some of Hormel's standard factory farming practices were recently revealed in shocking new undercover footage from one of Hormel's largest suppliers. The undercover investigation was carried out by the Animal Legal Defense Fund.
"The trial court saw right through Hormel's attempt to hide its misleading advertising behind the federal labeling laws," says Leah Nicholls, Staff Attorney at Public Justice. "Hormel markets its products as 'natural' because it knows this will confuse and mislead consumers seeking more sustainable food for their families and the trial court has made clear that DC law prohibits exactly this type of false and misleading advertising."
"The court's ruling is a victory for everybody who wants to know the truth about the process and the product of agro-industrial farming," says Kim Richman, attorney at The Richman Law Group, which has filed numerous cases against food companies falsely using the word "natural" to describe their products that are anything but. "The next step is shedding more light into what has been a dark space for both animals and consumers."
Related
As the pandemic leads to reduced capacity at slaughterhouses, prolonged use of drug increases risk of harm.

Animals rescued from backyard slaughter operation near Fort Meyers, Florida are now headed to sanctuaries.

The USDA and its meat corporation clientele are resisting calls to halt or even delay slaughterhouses' adoption of the controversial high-speed, deregulated pig and poultry slaughter inspection systems.