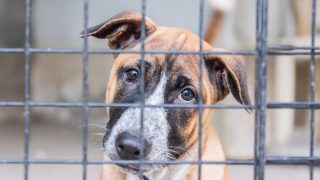 Class Action Lawsuit Against Barkworks Pet Store Chain for Selling Sick "Puppy Mill" Puppies Will Proceed
Judge denied Barkworks' attempt to dismiss lawsuit accusing it of consumer deception
Contact: media@aldf.org
Santa Ana, CA — On Friday, March 25, 2016, the Orange County Superior Court ruled that a class action lawsuit filed by the nonprofit Animal Legal Defense Fund, the nation's leading legal advocacy organization for animals, against Barkworks pet stores for selling sick "puppy mill" puppies, could not be dismissed as a matter of law.
After hearing extensive oral arguments from both sides Friday (March 25), the court found Barkworks' claims invalid, ruling that the class action lawsuit against the Southern California pet store chain with locations in Orange, Los Angeles, Ventura, and Riverside counties will go forward.
One of Barkworks' denied claims was that the numerous aggrieved puppy purchasers represented in the lawsuit had untimely claims since they purchased the animals in 2011.The court stated that the plaintiffs "acted in good faith and reasonably" in the timing of the lawsuit.
The Animal Legal Defense Fund first filed the complaint against Barkworks in 2014 alleging that the company systematically violated California consumer protection law by tricking consumers into buying sick "puppy mill" dogs. In October 2015, Animal Legal Defense Fund amended the complaint to add class action allegations after uncovering documents detailing the widespread nature of Barkworks' deception and hearing story after story of heartbroken purchasers who had to rush their new puppy to the vet just days or even hours after bringing them home.
The lawsuit alleges Barkworks' illegal business practices include misrepresenting puppy mills as "reputable" breeders, providing inaccurate breeder license numbers and addresses, fabricating breeding certificates, and lying about providing veterinary care to the fragile animals.
"No dog lover should have to go through what Barkworks' misled customers had to endure," says Stephen Wells, executive director of the Animal Legal Defense Fund. "The court's decision will allow those affected purchasers to continue to seek justice for their beloved pets and prevent others from having to go through the same ordeal because of Barkworks' irresponsible practices."
Related
Animal Legal Defense Fund's amicus brief urges the court to review a case regarding the negligent death of a dog and the resulting emotional damages

Goldie's Act would ensure the USDA does its job to protect dogs in federally licensed puppy mills

Alternative sentencing program in Fulton County, Georgia pairs shelter dogs with criminal defendants to offer both training and a second chance