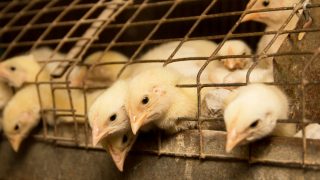 Animal Legal Defense Fund Urges Government Not to Undermine Slaughter-free Meat
Animal Legal Defense Fund warns federal agencies not to impose burdensome and unfair rules on humane innovation in meat
Contact: media@aldf.org
Washington, D.C. – This week the Animal Legal Defense Fund, the nation's preeminent legal advocacy organization for animals, was joined by several nonprofit animal protection organizations in submitting comments urging the U.S. government not to bow to pressure from the factory farming industry in its regulation of slaughter-free meat, the innovative new meat products made by culturing animal cells rather than killing live animals.
Today's broken factory farming model relies on inhumane and dangerous practices that present serious food safety, public health, and worker safety threats. Factory farms are a major source of pollution and have a devastating impact on the environment. But technology has opened the door to producing meat products with cell cultures instead of live animals.
The slaughter-free meat industry is still in its infancy, but its potential is tremendous. These products can remove animal suffering from the meat-creation process, while also reducing the environmental impacts and public health dangers associated with factory farming.
Two federal agencies — the U.S. Food and Drug Administration (FDA) and the U.S. Department of Agriculture's Food Safety and Inspection Service (FSIS) — recently announced that they will jointly regulate slaughter-free meat products. But the factory farming industry is pushing for labeling and safety regulations that would make it difficult, if not impossible, for slaughter-free meat to reach consumers — even trying to stop the products from being labeled as "meat" or using the other common product names that consumers recognize and expect.
Given the transformative potential of these new products and the growing consumer demand for less cruel and more sustainable options, the Animal Legal Defense Fund urged the FDA and FSIS to ensure a level playing field that does not favor entrenched interests at the expense of innovation and consumer choice.
What slaughter-free meats are called and how they are labeled matters. The government cannot regulate these new products' labels with unnecessary requirements that would make it impossible for producers and consumers to develop product identities that effectively and accurately convey their superior attributes.
"Slaughter-free meat has the power to fix so many of the ills associated with food production. It can be produced without harming animals or sullying our air with noxious odors and our waterways with manure," said Animal Legal Defense Fund Executive Director Stephen Wells. "These incredible changes have enormous potential that should be welcomed wholeheartedly, not hamstrung with unfair regulation at the behest of the factory farming industry.""
Several animal protection organizations signed on in support of the comment, including the Aquatic Animal Law Initiative, Compassion in World Farming, Compassion Over Killing, Farm Forward, and Mercy For Animals.
Related
Proposed rule would maintain an unnecessarily complicated and confusing process for children to get access to plant-based milk

Recommendations aim to decrease risk of zoonotic disease spread, animal escapes and attacks, and psychological and physical harm to the animals

Animal Legal Defense Fund petition for rulemaking spurs reporting improvements: Forms will be revised to ensure AWA licensees maintain complete records of all animal deaths.