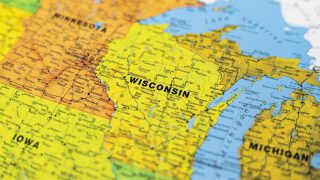 Wisconsin
Updates about legal issues facing animals in the state
The Animal Legal Defense Fund works at the federal, state and local levels to protect the lives and advance the interests of animals. This page is meant to be used as a resource to see what is happening in your state and what actions you can take for animals.
State Rankings
Each year, the Animal Legal Defense Fund publishes its U.S. State Animal Protection Laws Rankings Report. It is the longest-running and most authoritative of its kind, assessing the strength of each state's animal protection laws by examining over 3,400 pages of statutes. Each state is ranked based on 20 different categories of animal protection.
Wisconsin
Overall Rank: #26 (Middle Tier)
+Veterinarians must report suspected animal cruelty
+Has "Good Samaritan" law allowing civilians to rescue animals left unattended in cars
-No felony provisions for neglect or abandonment of an animal
-No statutorily authorized sentencing to mental health evaluation or treatment
-Definition of "animal" is limited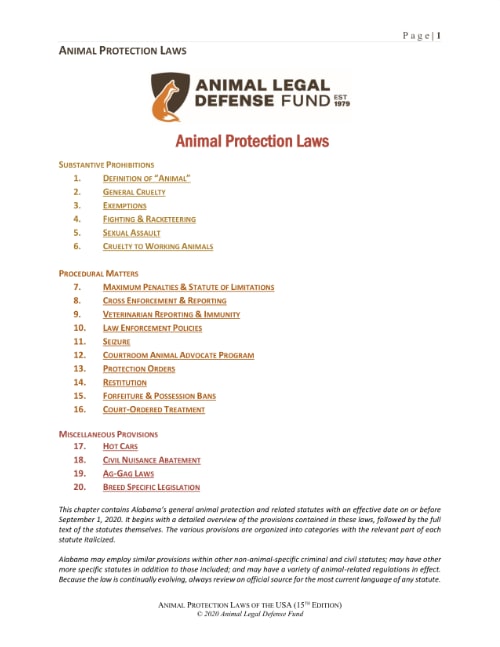 Animal Protection Laws of Wisconsin
The Animal Protection Laws of Wisconsin compendium contains the general animal protection and related statutes for Wisconsin with an effective date on or before September 1, 2021.
Active Legislation
Active Cases

Krasno v. Board of Regents of the University of Wisconsin
ALDF filed a lawsuit on behalf of Madeline Krasno, a former employee of one of UW-Madison's controversial primate research labs, who has been prevented from posting truthful comments on the school's otherwise public Instagram and Facebook posts because they are critical of the university's storied history of animal testing.
Recent Victories

Animal Legal Defense Fund v. Special Memories Zoo, LLC et al.
The court permanently banned Special Memories Zoo, its owner, and manager from ever possessing or exhibiting animals — other than dogs or personal pets — again or working with any business that does so.

Animal Legal Defense Fund v Board of Regents of the University of Wisconsin
The Animal Legal Defense Fund sued to compel the University of Wisconsin-Madison to disclose public records concerning taxpayer-funded experiments on newborn monkeys.
Take Action
Take action now to help animals in your state.