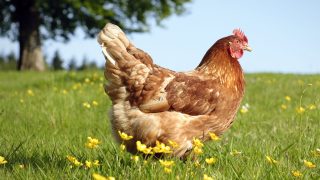 The 'Right to Food' Constitutional Amendment Could Undermine Animal Protections in Maine
This dangerous proposed amendment, to be voted on by Maine residents as 'Question 3,' could undermine state anti-cruelty laws.
Maine's so-called "Right to Food" proposed constitutional amendment could undermine state anti-cruelty laws and put countless animals at increased risk of abuse. The Animal Legal Defense Fund urges Mainers to vote "No" on "Question 3."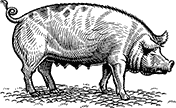 Farmed Animals
Maine currently leads the nation in terms of its laws protecting animals from cruelty.
But the misleadingly named "Right to Food" amendment could undermine the state's position as a leader on humane issues, while exposing animals to potential abuse.
This proposed amendment to the state constitution, appearing on Maine ballots as Question 3, would enshrine a right to "grow, raise, harvest, produce and consume the food of [an individual's] own choosing … as long as an individual does not commit trespassing, theft, poaching, or other abuses of private property rights, public lands or natural resources."
Notably, this list of limitations does not include animal cruelty, meaning that Maine's animals could lose even minimal protections if they're being raised for human consumption.
In explaining its objection to Question 3, the Maine Veterinary Medical Association noted: "Animal cruelty laws protect the welfare of animals by providing a standard for animal housing, nutritional needs, husbandry practices, and veterinary care. … Question 3 does NOT provide an exception to maintain these hard-fought victories and their enforcement, and preempts and vacates animal cruelty and food safety laws."
This measure is ambiguously worded and could have harmful, unintended consequences for Maine's animals, while doing nothing to meaningfully address food insecurity. The Animal Legal Defense Fund opposes Question 3, the proposed "Right to Food" amendment.
Maine residents can make a difference for animals by voting no on Question 3 and alerting friends and family about the potential animal harm that this measure could cause.
Learn more about Maine's laws protecting animals and find additional opportunities to take action.