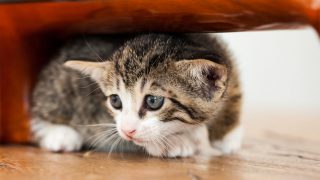 The Animal Cruelty & Violence Intervention Act of 2018
California Legislation
Animal abusers are five times more likely to harm humans. Statistics show that in some cases 71% of domestic violence offenders also abused animals at some point and 70% of the most violent prisoners in a study of federal prisons had serious animal abuse in their histories.
To address this link between animal cruelty and violence against humans and to stop the escalation of dangerous behavior among offenders who hurt animals, the Animal Legal Defense Fund is working with California State Senator Scott Wilk to pass SB 1024, the Animal Welfare and Violence Intervention Act of 2018. The bill requires offenders convicted under more serious animal abuse statues – like those involving malicious violence – as well as those convicted of crimes associated with underlying mental health issues, such as hoarding, to undergo a mandatory mental health evaluation and possibly ongoing counseling for up to one year.
Animal abuse is among the most misunderstood and undercharged crimes in our society. Currently, there are limited sentencing options, and judges have little power to ensure animal abusers receive appropriate treatment or education. In California, fines, limited jail time, probation, and forced animal surrender are about the only options. None of these options adequately address the underlying causes of animal cruelty nor do they do anything to attempt end the cycle of violence and thus prevent future acts of violence against animals and humans. Regardless of how stiff the penalties become, those convicted of animal abuse will at some point in time be back in the community and around animals once again. Thus, we saw a need for this bill as a way to truly prevent animal abuse by ensuring offenders are evaluated by mental health professionals and receive appropriate counseling.  The Animal Legal Defense Fund worked closely with Sen. Wilk on the bill concept and drafting to sponsor it with him in the legislature this session with broad support among mental health, animal rights, and law enforcement leaders.
Since the bill was introduced on February 7, 2018, it has passed the California Senate and then its first committee in the Assembly before being referred to the California Assembly Appropriations Committee where it now stands. After potential passage there, it will go to the floor of the Assembly for a vote of the full chamber before it can be sent to the Governor's desk to be ratified. We will continue to spearhead the bill's progress through the legislature in hopes that it becomes law this session.