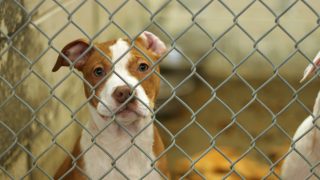 Funds to Care for Animal Cruelty Victims (New Jersey)
New Jersey Cost of Care Bill (A.2354/S.981)
Currently, New Jersey animal care agencies bear the cost of caring for animal cruelty victims, an expense that can be financially overwhelming. The Cost of Care bill would address this problem.

Companion Animals
In animal cruelty investigations, animal victims may be lawfully seized and placed in the temporary custody of an animal care agency, such as a municipal animal shelter or nonprofit rescue organization.
The cost of caring for animal cruelty victims can be significant — especially in lengthy or large-scale cases, such as those involving animal fighting rings. Veterinary and other expenses can become financially devastating.
In thirty-five U.S. states, lawmakers have enacted legislation that enables animal care agencies to file for reimbursement of court-approved "reasonable costs of care" for animals held as evidence awhile their criminal animal cruelty cases proceed.
Now, New Jersey has a chance to become the next state to enact a "cost of care" law.
A bill, A.2354/S.981, would fill an important need: protecting animal shelter and nonprofit organizations from being overwhelmed by the cost of caring for cruelty victims.
In states without "cost of care" laws, the lack of a mechanism for agencies to recover their expenses can divert resources from other animals in need and negatively impact the effective enforcement of anti-cruelty laws. This legislation, if enacted, would benefit animal victims and allow agencies to continue to provide their normal services.
The Animal Legal Defense Fund strongly supports A.2354/S.981. Learn more about New Jersey's laws protecting animals at aldf.org/newjersey.