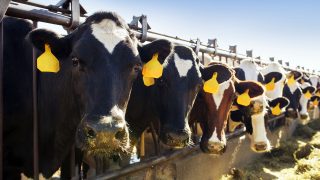 Mega-Dairy Moratorium (Oregon)
Coalition working to create a moratorium on the construction of new mega-dairies as well as the expansion of existing mega-dairies, defined as more than 2,500 cows
Farmed Animals
Oregon is in the midst of a mega-dairy crisis. These facilities, where thousands of cows are confined in cramped and filthy conditions, are polluting the state's air and water and hurting animals. The Animal Legal Defense Fund is a member of the Stand Up to Factory Farms coalition, which has been working to stop the spread of mega-dairies across Oregon. One effort has been through the introduction of legislation (HB 2924/SB 583) that would create a moratorium on the construction of new mega-dairies as well as the expansion of existing mega-dairies, defined as more than 2,500 cows. Introduction of a bill for the next legislative session will be forthcoming in early 2023.
Modest attempts at improving oversight of mega-dairies have done little to mitigate their impacts. A moratorium is critical to prevent more mega-dairies from opening in Oregon while officials address existing problems.
In 2017, the Oregon Department of Agriculture approved the now infamous Lost Valley mega-dairy in Morrow County. The mega-dairy repeatedly flouted environmental regulations, violating its water discharge permit more than 200 times, racking up hundreds of thousands of dollars in fines, and endangering community residents and wildlife by contaminating the air and water. Despite the Lost Valley disaster, the state has not enacted meaningful regulations to mitigate the impacts of mega-dairies. Worse, state agencies are considering permitting a new 30,000 cow mega-dairy, Easterday Dairy, on the same site as Lost Valley Farm.
A cow on a mega-dairy will spend almost her entire life in a concrete and metal building until her body gives out, and she's shipped to slaughter. Industrial dairies are built to extract as much milk as possible, without regard for the animals' needs. Cows' bodies aren't designed to stand on hard surfaces, resulting in foot damage and aggravating lameness. And though cows are deeply bonded to their young, they're separated from their calves almost immediately after birth.
In addition to the suffering mega-dairies inflict on cows, they also endanger the environment and neighboring residents by polluting the air and water, as well as depleting the state's water supply. Oregon's rivers, streams, and aquifers are already strained by residents' demands, and mega-dairies are sucking nearby aquifers dry.
In August 2022, the Animal Legal Defense Fund was one of the 22 organizations that, together, filed a petition for rulemaking with the Oregon Environmental Quality Commission. Led by members of the Stand Up to Factory Farms coalition, petitioners demanded the Commission take immediate action to address the dangerous air pollution emitted by mega-dairies across the state. The proposed regulatory program would target the staggering amount of climate-altering methane emitted by these facilities, as well as several air pollutants that pose a serious threat to human and environmental health.
In the fall of 2020, the Animal Legal Defense Fund, working with a broad coalition, petitioned the Oregon Water Resources Commission to restrict withdrawals for stockwatering from eastern Oregon's strained aquifers. All industrial animal agriculture facilities use huge quantities of water, but mega-dairies are particularly water-intensive. If mega-dairies expand in critical groundwater areas in the state, water reserves will be further threatened.
Watch the webinar "The Urgent Case for a Mega-dairy Moratorium in Oregon," hosted by Stand Up to Factory Farms and featuring 2021 bill sponsor Representative Nosse, to learn more.
Join the Animal Legal Defense Fund's email list to stay up to date on lawsuits, legislation, and regulations affecting animals.
Sign Up Now