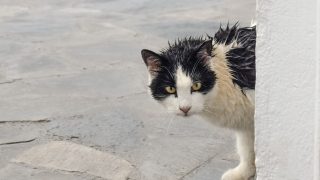 Funding Critical Health Services for Animals In Need (Massachusetts)
State Budget Allocates Funds for Spay, Neuter, and Vaccination Services
Governor signs state budget allocating funds to provide critical animal health services—including spay and neuter surgeries and vaccinations—to animals in need.
Companion Animals
On July 16, 2021, Governor Charlie Baker signed the state budget bill for fiscal year 2022 into law with a $100,000 allocation for critical animal health services. The allocation will enable the Mass Animal Fund (Fund) to provide spay and neuter surgeries and vaccinations to animals in need; there is a wait list of more than 600. The Fund is prioritizing animals in families impacted by the pandemic and related medical, financial, and housing hardships.
The Fund's mission is to end animal homelessness in Massachusetts and to support local animals in need. Administered by the Massachusetts Department of Agricultural Resources, the Fund is primarily funded by the voluntary tax check off (Line 33f) on the Massachusetts resident income tax form. Allocating funds in the state budget will increase the Fund's capacity to help animals in need.
Amendments to include the Fund in the budget were filed by Representative Ted Phillips (D-8th Norfolk) (Amendment #433) and Senator John Velis (D-2nd Hampden & Hampshire) (Amendment #34), in the House and Senate respectively. Discrepancies between the House and Senate budgets were resolved by A Conference Committee, and a $100,000 allocation was included in their reconciled budget, which passed the Legislature.
The Animal Legal Defense Fund thanks Representative Phillips and Senator Velis for their leadership in filing these amendments. We are grateful to Governor Charlie Baker as well as Speaker Ronald Mariano (D-3rd Norfolk), Senate President Karen Spilka (D-2nd Middlesex & Norfolk), House Ways and Means Chairman Aaron Michlewitz (D, 3rd Suffolk), and Senate Ways and Means Chairman Michael Rodrigues (D, 1st Bristol & Plymouth) for their support during the budget process. We appreciate the many advocates who contacted their legislators in support of these amendments and the many legislators who co-sponsored them.
Co-sponsors of House Budget Amendment #433, filed by Representative Ted Phillips, include Representatives Adam J. Scanlon (D-14th Bristol); Marcos A. Devers (D-16th Essex); Brian M. Ashe (D-2nd Hampden); Lindsay N. Sabadosa (D-1st Hampshire); Mathew J. Muratore (R-1st Plymouth); Paul W. Mark (D-2nd Berkshire); Bradley H. Jones, Jr. (R-20th Middlesex); Tommy Vitolo (D-15th Norfolk); Hannah Kane (R-11th Worcester); Paul F. Tucker (D-7th Essex); Tram T. Nguyen (D-18th Essex); Angelo J. Puppolo, Jr. (D-12th Hampden); Jack Patrick Lewis (D-7th Middlesex); Paul McMurtry (D-11th Norfolk); Daniel Cahill (D-10th Essex); Angelo L. D'Emilia (R-8th Plymouth); Frank A. Moran (D-17th Essex); Tackey Chan (D-2nd Norfolk); Vanna Howard (D-17th Middlesex); Steven G. Xiarhos (R-5th Barnstable); Antonio F. D. Cabral (D-13th Bristol); James K. Hawkins (D-2nd Bristol); Peter Capano (D-11th Essex); and Natalie M. Higgins (D-4th Worcester).
Co-sponsors of Senate Budget Amendment #34, filed by Senator John Velis, include Senators Diana DiZoglio (D-1st Essex), Michael Brady (D-2nd Plymouth & Bristol), Bruce Tarr (R-1st Essex & Middlesex), Mark Montigny (D-2nd Bristol & Plymouth), Mike Moore (D-2nd Worcester), Paul Feeney (D-Bristol & Norfolk), Patrick O'Connor (R- Plymouth & Norfolk), Jamie Eldridge (D-Middlesex & Worcester), Adam Hinds (D-Berkshire, Hampshire, Franklin, & Hampden), Walter Timilty (D- Norfolk, Bristol, & Plymouth), Adam Gomez (D-Hampden), Brendan Crighton (D-3rd Essex), Julian Cyr (D-Cape & Islands), Marc Pacheco (D-1st Plymouth & Bristol), Joan Lovely (D-2nd Essex), and Patricia Jehlen (D-2nd Middlesex).
If you live in Massachusetts, please see how you can help protect animals in Massachusetts this legislative session!