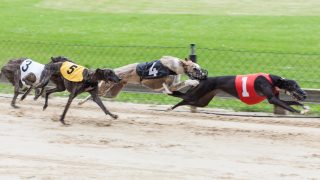 Florida Greyhound Racing Ban
Florida Legislation
Update: Victory for Florida's greyhounds! On November 6, 2018, Floridians overwhelmingly voted in favor of Amendment 13 – ending the cruel greyhound industry in the state by 2021. Greyhounds previously forced to race will now be able to retire – no longer will they be confined to small wire cages or given dangerous drugs to enhance their performance. The Animal Legal Defense Fund is proud to have been part of the coalition of organizations supporting this historic grassroots campaign. Thank you to all the voters who stood up for these dogs.
As the racing industry in Florida winds down, many former racing greyhounds will need loving homes. If you're considering adopting a dog – consider a greyhound! A strong network of rescue groups focused on greyhounds already exists because the racing industry breeds and discards hundreds of dogs annually. Amendment 13 will help stop this cruel cycle.
The ban on greyhound racing in Florida goes into effect at the end of 2020, meaning dogs will trickle into rescues over the next two years. Now rescue groups are working together to place dogs with families both in Florida and across the country. You don't need to live in Florida to give one of these dogs the life they've always deserved.
GREY2K USA hosts an online directory of rescue groups dedicated to greyhounds. You can also volunteer, foster, or donate to a local greyhound rescue group in your area. Find a group near you here.
Note: The Animal Legal Defense Fund urges all adopters to carefully vet any rescue group first. The groups listed in the directory are suggestions, and this should not be construed as an endorsement of any specific group.
---
The Animal Legal Defense Fund has joined in a coalition of organizations to support the grassroots campaign to end the cruelty of greyhound racing in Florida. Voters will have an historic opportunity to help thousands of greyhounds this November 2018 by voting "Yes on 13" for this humane amendment.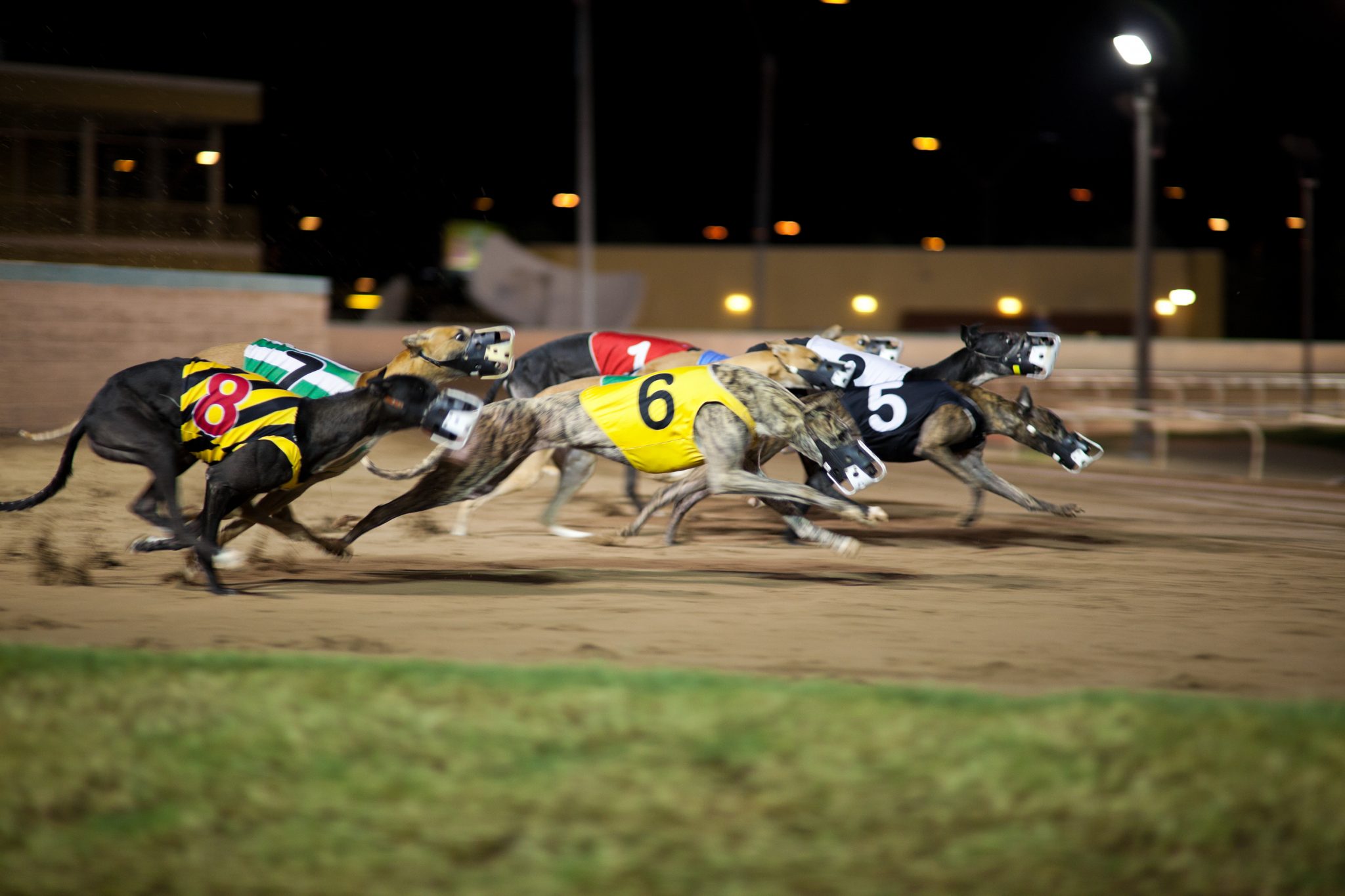 Florida is home to 11 out of 17 operational greyhound racetracks in the United States. Greyhounds are at a disadvantage even before they are born. Thousands are bred annually – many more than are needed to race – in an attempt to create the fastest dogs. These social dogs are forced to spend most of their time alone, confined in rows of double-stacked, warehouse-style metal cages that are barely large enough for them to stand up or turn around in for 20-23 hours a day. Many racing dogs suffer injuries while racing and, according to state records, a racing greyhound dies on average every three days on a Florida track. Additionally, over the past decade there have been more than 400 greyhound drug positives in Florida. Confinement, drugging, and death are not what animal lovers want to happen to this magnificent and historic breed.
Amendment 13 will phase out commercial greyhound racing by 2020. Other gaming activities at these facilities, if any, will not be affected. It will, however, help thousands of dogs – potentially 80,000 over the next decade. This proposal will allow the people of Florida to rid the state (and thereby 2/3 of the country) of dog racing and put an end to this cycle of cruelty that polls show over 70% of Floridians educated on both sides of the issue will agree should have no place in a modern and civil society.
Get Involved
If you live in Florida, vote YES on Amendment 13 this November! Encourage your fellow Floridians to do the same by posting our educational sharegraphics on your social media pages and educating yourself with talking points about greyhound racing.
Follow our Facebook page and the Protect Dogs Facebook page for up to the minute news on Amendment 13.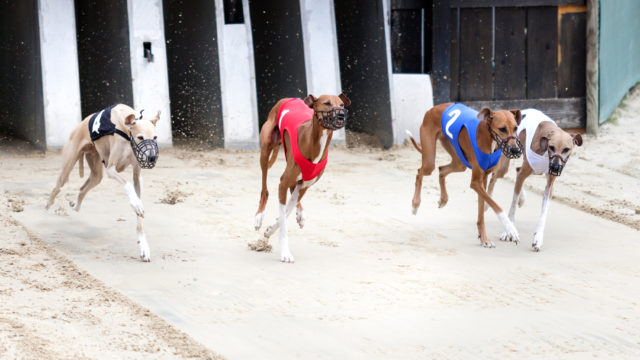 Fast Facts
Greyhound Racing and Amendment 13
Lobbyists for greyhound racing are working hard to spread misinformation about this cruel industry. Review these talking points so you can explain why greyhound racing is bad for dogs and bad for Florida.

Greyhound racing is oftentimes fatal. On average, a greyhound dies every three days on a Florida track. Of these dogs, 94% were three years old or younger.
Greyhounds are routinely drugged, and female dogs are regularly injected with anabolic steroids in order to keep them racing. More than 400 racing greyhounds tested positive for cocaine, novocaine, oxycodone, and lidocaine in the last ten years.
The life of a racing greyhound is marked by loneliness and boredom. Approximately 8,000 greyhounds are cruelly confined in a given year, spending 20 to 23 hours a day confined to double-stacked warehouse-style metal cages that are barely large enough for them to stand up or turn around. Instead of blankets or bedding, dogs are only provided shredded paper or discarded carpet pieces.
Serious injuries, including broken legs, paralysis, head trauma, and broken backs, are common in greyhound racing. Dogs have also been electrocuted after touching the track's high voltage lure. Some dogs actually die on the tracks, others are euthanized behind closed doors.
Only two states, Florida included, do not publicly report on greyhound injuries. However, Seminole County began tracking greyhound injuries in May 2017. Seminole County has reported 64 greyhound injuries since beginning tracking.
Greyhound racing is a dying industry. Only 17 operational dog tracks remain in the United States. Eleven of these tracks are in Florida.
Amendment 13 will phase out greyhound racing in Florida by 2020. In addition to helping thousands of dogs, Amendment 13 will reduce gambling by roughly $200 million per year.
Opponents of Amendment 13 claim greyhound racing has economic benefits. The opposite is true. Since 1990, tax revenue from dog racing has dropped by 98%. A state commissioned study determined Florida loses between $1 million and $3.3 million annually because regulatory costs exceed revenues.
Amendment 13 is, in part, the result of the Florida legislature's failure to act. Industry lobbyists have worked aggressively to defeat even small measures to reform greyhound racing. For example, bills that would have mandated the reporting of greyhound injuries and prohibit the use of anabolic steroids were introduced and failed. The greyhound racing industry will not change – lobbyists even attempted to pass a bill that would legalize small amounts of cocaine in dog racing. Most Floridians do not support this cruel "sport." Amendment 13 gives voters the power to end it.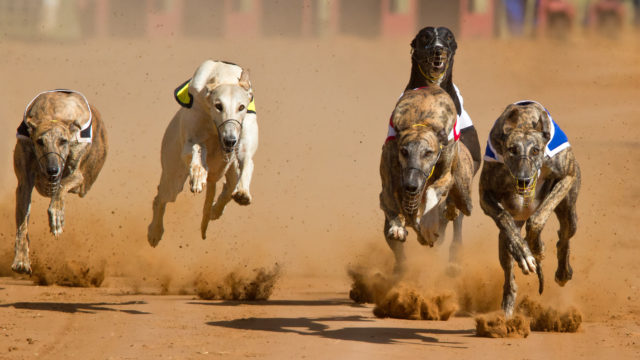 Social Media
Educate your friends and family about the cruel greyhound racing industry by downloading and posting these sharegraphics on Facebook, Instagram, and Twitter. Use the hashtag #EndGreyhoundRacing to join the online conversation!
Click the image to download!
Facebook: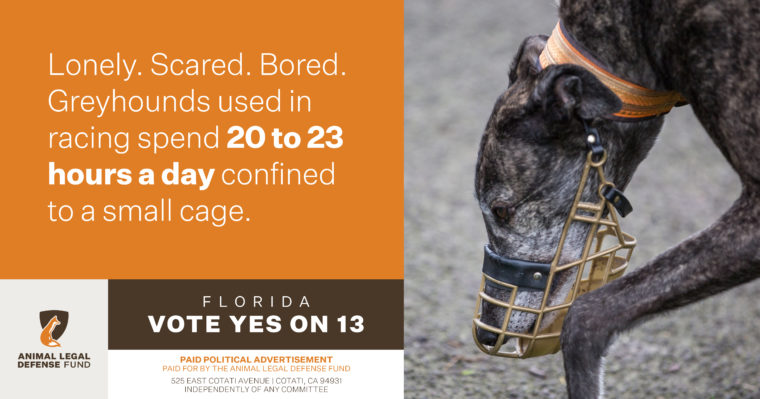 Instagram: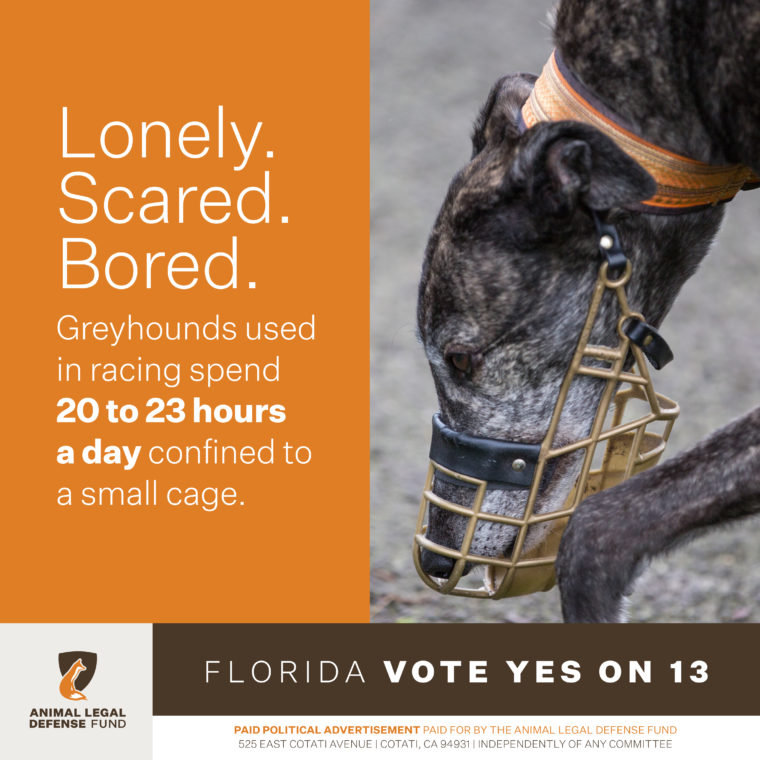 Twitter: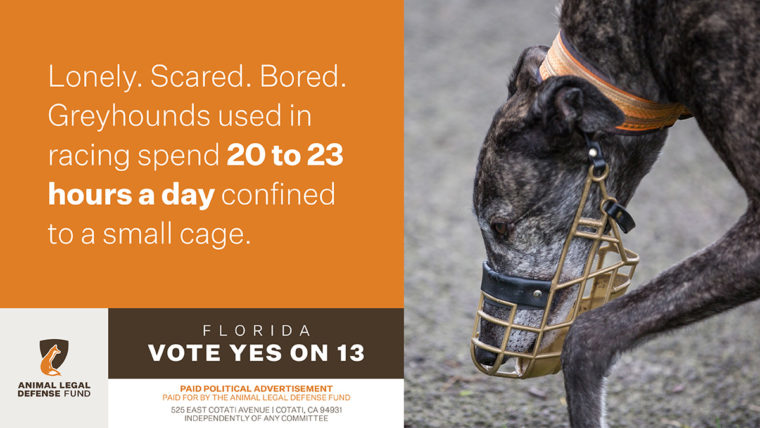 We will release additional graphics throughout the campaign.
---
Stories from Former Racing Greyhounds
As Florida voters get ready to end the greyhound racing industry this fall, the Animal Legal Defense Fund is looking for real life stories about greyhounds who have gone from the track to the couch.
If you've adopted a former racing greyhound, share your story with us! We may use your story to educate people about the cruelty of greyhound racing in the fight to make sure no other dog suffers similarly.
Paid political advertisement paid for by the Animal Legal Defense Fund, 525 East Cotati Avenue, Cotati, CA 94931, independently of any committee.