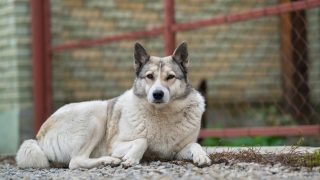 Courtroom Animal Advocate Program (California)
Riley's Law (AB 2645)
Courtroom Animal Advocate Program (CAAP) laws allow advocates — supervised law students or volunteer lawyers — to advocate for animal victims in criminal cruelty cases.
Companion Animals
Status
Update: While AB 2645 will not advance in 2020 due to the COVID-19 pandemic, the Animal Legal Defense Fund remains committed to enacting a CAAP law in California. Stay tuned for more information in late 2020.
Assembly Bill 2645 creates a Courtroom Animal Advocate Program (CAAP) in California. Introduced by Assemblymember Adrin Nazarian (D, Van Nuys), this bill would allow judges to appoint courtroom advocates — supervised law students or volunteer lawyers — to represent the interests of an animal in criminal animal proceedings.
The bill, known as Riley's Law, is sponsored by the Animal Legal Defense Fund and Animal Hope in Legislation. (In California, private individuals and organizations that propose or support a bill are called "sponsors.")
Animal crimes involve victims who are unable to speak for themselves. The advocate's duty is to speak for the needs and interests of an animal crime victim — appearing in court and assisting the judge by drafting briefs, conducting research, gathering information from veterinarians, animal control officers, and law enforcement officials. The CAAP advocate also makes recommendations on behalf of the animal victim's interests. These needs center on the animal's health and well-being, as well as the prevention of future animal cruelty.
Riley's Law is named for a dog who was severely abused as a puppy. In 2017, the then 4-month-old puppy was found outside a school in Southern California with a broken jaw and chemical burns. Thanks to the actions of a Good Samaritan and rescue group, Riley survived and was adopted into a loving home.
In 2016, Connecticut became the first state to enact a CAAP law (also known as Desmond's Law). Connecticut's CAAP law gives abused animal a greater chance of receiving justice. Since its enactment, the state has seen an increase in animal cruelty investigations and prosecutions and serves as a model for many other states that seek to introduce similar legislation, like California.
Join the Animal Legal Defense Fund's email list to stay up to date on lawsuits, legislation, and regulations affecting animals.
Sign Up Now