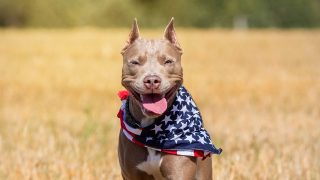 Breed-Neutral Companion Animal Policy in Military Housing (Federal)
Federal Legislation
A provision in the Senate version of the National Defense Authorization Act for FY 2021 would create a breed-neutral companion animal policy for families living in military housing

Companion Animals
Due to discriminatory and conflicting companion animal policies across military branches, military families are frequently forced to give up their dogs. Families may be able to live on one military base with their dog only to be transferred and learn that their canine family member is now banned. For example, the Air Force bans certain breeds such as Rottweilers and Doberman Pinschers while the Navy allows local commanders to decide which breeds are banned. And the Army prohibits "dangerous dog breeds" which includes Stafford Bull Terriers and Rhodesian Ridge Backs.
Not only are these policies inconsistent — leading to confusion and uncertainty — they're not grounded in science or sound public policy. Only breed-neutral policies that focus on individual animal and guardian behavior will allow the military to address dangerous dogs effectively and fairly.
The Department of Defense needs a uniform, and breed-neutral, policy to ensure that families don't face the heart-wrenching decision about what to do when they're transferred to a base with different rules.
Championed by Senator Tammy Duckworth (D-IL), a former U.S. Army lieutenant colonel, a breed-neutral companion animal policy is currently included in the Senate version of the National Defense Authorization Act for FY 2021. The Animal Legal Defense Fund is supporting the proposed policy along with the American Bar Association
Companion animals provide significant emotional support for military families, especially those with children. Forcing families to lose their dog causes unnecessary trauma and distress. No family should have to deal with this heartbreaking situation — particularly not those who are serving our nation.
Please urge your U.S. Representative to include breed-neutral companion animal policies for families living in military housing in the National Defense Authorization Act.
TAKE ACTION