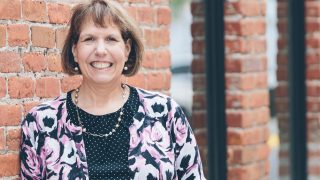 Stacey Gordon Sterling
Animal Law Program Director
As the Animal Law Program Director, Stacey Gordon Sterling builds educational programs for law students to expand and strengthen the cadre of animal law attorneys, advocates, and activists needed to protect animals using the legal system.
Stacey brings her academic background and passion for legal advocacy to the Animal Legal Defense Fund team. She holds a B.A. in English and Creative Writing from Eastern Washington University, a Master of Library and Information Science from the University of Washington, and a JD from the University of Montana. She has received the Ken Shugart Humanitarian Award from the Humane Society of Western Montana, and the Montana Faculty Service Award.
Outside of the office Stacey enjoys traveling, wine tasting, reading and fostering puppies. She is a member of the Humane Society of Western Montana legislative committee through which she works on local and statewide animal protection legislation. She is also a member of the State Bar of Montana Animal Law Section, which works to develop Animal Law in all branches of the legal system.
Located in Missoula, Montana, she shares her converted apple barn home with her husband; companion dogs Peggy Sue and Otis; and companion cats Gil and CeCe.