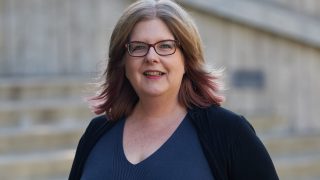 Sandy manages all online and offline processing functions for the Animal Legal Defense Fund, as well as membership databases, including creating strategies to optimize performance and data integrity to best support the organization's evolving needs. She also oversees membership services.
Sandy holds a BA in Graphic Design, and a Master of Science in Acupuncture and Herbal medicine, and has spent more than 10 years in operations and administrative management.
Though animals have always held a special place in Sandy's heart, her advocacy on their behalf really took off while in college, where she served on the Board of her university's animal rights group and worked to educate others about animal issues, such as the inhumane treatment of animals in circuses and animals used for experimentation in cosmetics and product testing.
Since then she has continued to put her passion into action by gathering signatures to help California pass Proposition 2, which improved the welfare of animals on factory farms, and she has been a therapeutic riding volunteer, as well as a dog socializer for local humane societies. Trained as a volunteer disaster responder with Red Rover, Sandy has dedicated her life to helping dogs in need, including being active in anti-puppy mill campaigns, spay and neuter events, and working to prevent dogfighting rings.
Outside the office, Sandy focuses a lot of her time on music. She shares her home with her two rescued older dogs, Ziggy and Ollie.