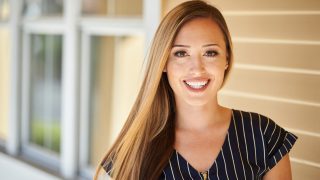 As the Processing Administrative Assistant, Samantha supports all aspects of the Development Team by communicating directly with donors and the general public, in addition to helping process daily donations.
Samantha graduated with a Bachelor's in Political Science from Cal Poly, San Luis Obispo, where she was an avid participant in their Mock Trial program. Prior to joining the Animal Legal Defense Fund, Samantha worked for a legal department in the corporate sector. She made the transition to the nonprofit world to pursue her life-long goal of having a career in helping animals.
Located in Sonoma County, California, Samantha shares her home with her husband and four dogs: a lab named Benny; a bulldog named Huck; and two senior rescue Chihuahuas, Leo and Coco. Outside of the office she enjoys being outdoors, traveling, scuba-diving and volunteering at local animal rescues.