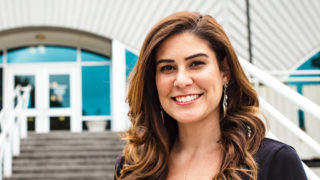 As the Animal Legal Defense Fund's publicist, Natalia is the organization's liaison with the press. She creates and maintains relationships with reporters and makes sure they receive updates and breaking news from the Animal Legal Defense Fund. Natalia also coordinates interviews with our attorneys on local and national media.
Natalia has a B.A. in Mass Communications and Media Studies from Fairleigh Dickinson University and M.A. in Journalism and Media Studies from University of South Florida. She is also a member of Lambda Pi Eta National Communications Association Honor Society.
After watching a documentary on the horrors of factory farming, Natalia adopted a plant-based diet and committed herself to working toward a world where animals are respected as living, sentient beings. She feels it is her duty to fight for those who don't have a voice. Natalia takes great pride in knowing that the information she communicates to the media plays a role in other people's decision to become advocates.
Before joining the Animal Legal Defense Fund, Natalia spread the word about animal protection as a writer for multiple outlets including the Tampa Bay Times, Ecorazzi and Care2. She lives in St. Petersburg, Florida with her husband Dan and four rescue cats—Magic, Minnie, Jinji and Dubha. When she's not working, Natalia likes to appreciate everything Florida has to offer, like lounging at the beach and visiting Disney.