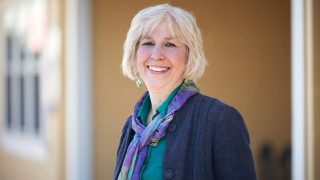 Marcia Slackman
Head of Major Gifts
As Head of Major Gifts, Marcia Slackman works with supporters to develop lasting donor relationships and raise major and planned gift revenue in thirteen western states.
Before joining the Animal Legal Defense Fund, Marcia worked for 16 years in national and international animal protection organizations, including The Humane Society of the United States, the International Fund for Animal Welfare, and Born Free USA, raising major and planned gifts through meaningful donor engagement.  She has extensive experience and success in creating and managing leadership councils, fundraising events, and raising funds for capital campaigns.
Marcia is passionate about creating a society where people respect and protect all animals and believes that establishing stronger animal protection laws is essential to creating such a society.
Marcia holds a B.S. in Education from SUNY New Paltz, and an MSW and M.S. in Behavioral Disabilities from the University of Wisconsin-Madison.
Located in the East Bay, California, Marcia enjoys hiking, reading, cooking, camping, and traveling. She lives with her husband and daughter and cats Sparkle, Josh, Bonnie, and Tarzana.